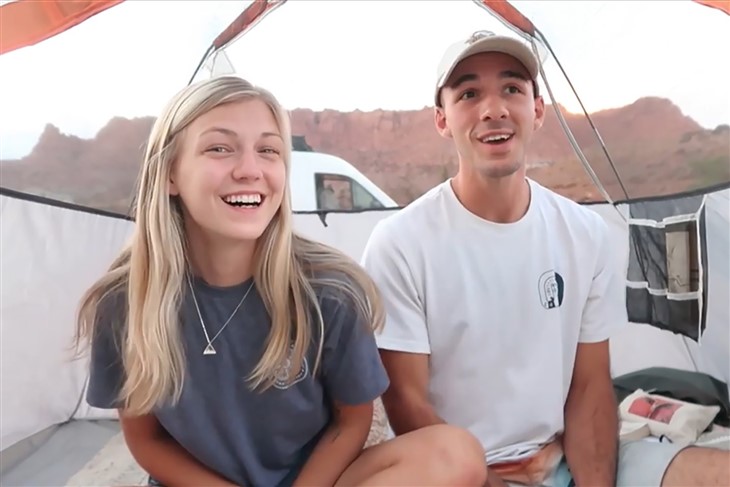 After months of investigation, the FBI has confirmed what most of America already knew. Brian Laundrie was responsible for the death of his girlfriend Gabby Petito last year. What else did the FBI learn from Brian's notebook?
Brian Laundrie Confessed To Killing Gabby
The FBI said in a press release earlier today that Brian Laundrie was the only person responsible for Gabby Petito's death. Brian included a written confession in his notebook found along with his remains. This news was released as part of the final update on the Gabby Petito case. Petito's body was discovered in the Bridger-Teton National Forest in Wyoming last September. Brian disappeared around the same time from his parents' home in Florida. Authorities have not found evidence that anyone else was involved in Gabi's killing other than Brian.
Brian Laundrie's Disappearance
Laundrie returned to Florida after his cross-country trip with his fiancé, Gabby. However, Gabby didn't accompany Brian home. Laundrie was never deemed as anything but a person of interest in Petito's case. After the investigation into Petito's absence was opened, it took five days for Laundrie to turn up missing as well. Perhaps Laundrie knew that he could not avoid the truth with questions increasing about his involvement.
In October, Laundrie's remains were found in a previously flooded section in the Myakkahatchee Creek Environmental Park. It was later revealed that Laundrie died from a single gunshot wound to the head. A backpack, a notebook, and a revolver were found close to his remains according to the FBI. People who have been following this story know that Laundrie's parents were the ones to make this discovery.
The Content In The Notebook
In reviewing the notebook, the FBI says that the notebook revealed written statements by Laundrie where he claimed responsibility for Gabby's death. Laundrie also tried to deceive the police by other means. After Petito's death, Laundrie sent messages back and forth between their phones to make it appear that Petito was still alive.
Laundrie also used Petito's credit card on his way home to Florida so there was activity on Petito's account. Petito's cause of death was revealed in November to be "blunt-force injuries to the head and neck, with manual strangulation." Police quickly zeroed in on Laundrie as Petito's killer. Petito may still be alive if not for the unintentional mistakes made by Moab Police in Utah when they spoke to Gabi and Brian about domestic violence in August.
After the FBI's press conference, the Petito family released this statement. "We truly appreciate the FBI's diligent and painstaking efforts in this extremely complicated case. The quality and quantity of the facts and information collected by the FBI leave no doubt [that] Brian Laundrie murdered Gabby." Now that the investigation is over, may Gabby rest in peace.