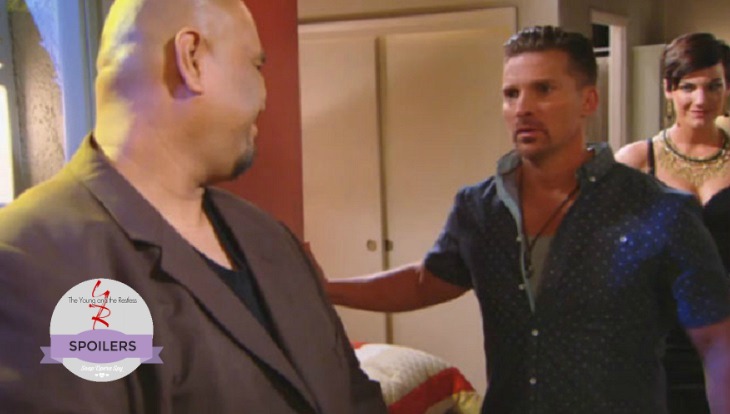 Dylan (Steve Burton) is overreacting on 'The Young and the Restless'? Of course savvy fans know this is happening because the well-liked actor's final scenes are playing out this month. But as far as fictional matters are concerned, he basically was forced into a life-threatening situation, made a mistake and should just move on from here. However, it seems like he won't allow himself to do so.
Naturally Sharon (Sharon Case) won't see the complexity of this issue that involved Alex (Jess Webb). Then again, Mrs. McAvoy might never learn about Dylan's unromantic night, unless Miss Dettmer arrives in Genoa City months from now carrying Dylan's child.
Related: Dylan Freaking, He's In Big Trouble – Devon Explodes At Hilary – Phyllis Overhears Jack and Gloria Plotting
How ironic would it be for Dylan to finally become a father through a circumstance of this nature? Whether he's alive to see it, soon-to-be presumed dead, or missing will soon be known. But hardcore soap opera fans surely haven't ruled out the potential plot point that could make Alex the mother of Dylan's first child.
Before getting ahead of ourselves, let's focus on present day Miami. Dylan apparently earned Alex' trust, woke up the next day and was forced to wait a few hours for the meet-and-greet to be set with his intended drug target.
That delay allowed Dylan a chance to check in with Paul (Doug Davidson). The information he relayed about Christine (Lauralee Bell) calling him the day before led his dad and Kevin (Greg Rikaart) to realize that Sharon, in fact, had crossed the line by making that unauthorized contact. However, Dylan's personality change was also detected during the conversation. That point will play into the dramatic events that are about to unfold.
Related: Sharon Not To Blame This Time – Kevin Left Paul's Office Unsecured
Upon her return, Alex took Derek (Dylan's undercover persona) to a shady part of town. Such is life in the drug trade, where trust doesn't exist and life is treated like a game.
Y&R fans are surely wondering how Dylan's current storyline will end. The word 'current' was used in the last sentence because Burton's amiable exit from the cast surely should a return at some future point. Whether that's in the form of Dylan or someone else might not be known for awhile, or ever.
Soap Opera Spy is a leading source for everything linked to 'The Young and the Restless'.
Share your thoughts in the Comments section below, on our Facebook Page,  join our Facebook Group