"The Young and the Restless" spoilers for Thursday, October 20, tease that Ashley (Eileen Davidson) will try to squeeze some info out of Jack (Peter Bergman). At the Abbott estate, Ashley quizzes Jack about the flash drive. He pretends he has no idea what's on it. Ashley can tell Jack is holding out on her, so she takes off.
At Newman Enterprises, Travis (Michael Roark) learns Natalie (Mara McCaffray) is the new assistant. After introductions are made, Travis pays Victor (Eric Braeden) a visit. Vic says they may have a leak at Newman. Travis implies that he had nothing to do with it. Victor tells Travis to go and informs Natalie that she can take him off the list.
In the elevator at Jabot, Billy (Jason Thompson) is still stuck on the flash drive. He annoys Phyllis (Gina Tognoni) about it, but she insists there's nothing he needs to be aware of. When the elevator doors open, a security guard is waiting. Phyllis says he's there to make sure Billy stays on his floor.
At Brash and Sassy, Cane (Daniel Goddard) is pleased by Victoria's (Amelia Heinle) updates. She took care of an issue that come up with production. Billy arrives and they all talk about marketing. Travis pops in and wants to chat with Victoria alone. They head into a conference room and Billy gets curious.
Travis shares the news that there's a possible leak at Newman. He felt like Victor was accusing him. Victoria isn't surprised and suggests that Victor never trusts anyone. She tends to be cautious, too. Travis admits that he doesn't like this. It's all a bit disconcerting.
Meanwhile, Phyllis and Jack discuss their plan. They agree that Billy and Ashley are trying to figure out what's up. Jack isn't going to lose any sleep over it. He's actually anxious for the bomb to drop. Jack wants Victor to find out exactly how and why this happened to him.
After Jack exits, Ashley stops by to warn Phyllis. She vows to get Phyllis out of Genoa City if Jack's life gets blown up again. Phyllis remains focused on her goal of reuniting with Jack. Across town, Hilary (Mishael Morgan) and Devon (Bryton James) bicker at GC Buzz. Devon thinks it's good that the show has some integrity, but Hilary hates that their viewership is plummeting.
Devon leaves just before a hot scoop comes in. Hilary debates whether or not she should tell Devon about it. She eventually tapes the new show without Devon's approval. Elsewhere, Devon defends Hilary when Lily (Christel Khalil) rants as usual. He stomps off and Neil (Kristoff Jt. John) encourages Lily to play nice.
Jack arrives and Neil wants his help at the foundation. When Jack declines, Neil urges him to focus on something other than business. Jack spots Victor and starts praising the way he's rebuilt Newman. Victor doesn't believe Jack is being sincere, so he heads for the exit.
Other "Young and the Restless" spoilers say Devon will get a big surprise. Back at GC Buzz, Devon finds Hilary finishing up the taping. He hears her say that Victor deceived the public as well as his employees. Hilary contends that Victor's empire is crumbling.
Devon states that they need to get their facts straight before this goes to air. They decide to stop by Victor's office to let him issue a statement. At Newman, Devon and Hilary tell Victor about the info they received. They wonder if he'd like to comment on the accusations that he cooked the books.
Victor angrily orders Hilary and Devon to leave. Since there's no way to confirm anything, Devon may not want to move forward. Unfortunately, Hilary won't let this story slip away. Y&R rumors hint that Hilary is about to stir up major trouble. Stick with the CBS soap to see what's in store.
So Y&R fans, what do you think about these "Young and the Restless" spoilers? Voice your opinion in the comments below and don't forget to check Soap Opera Spy often for the latest "Young and the Restless" spoilers, rumors, updates and news.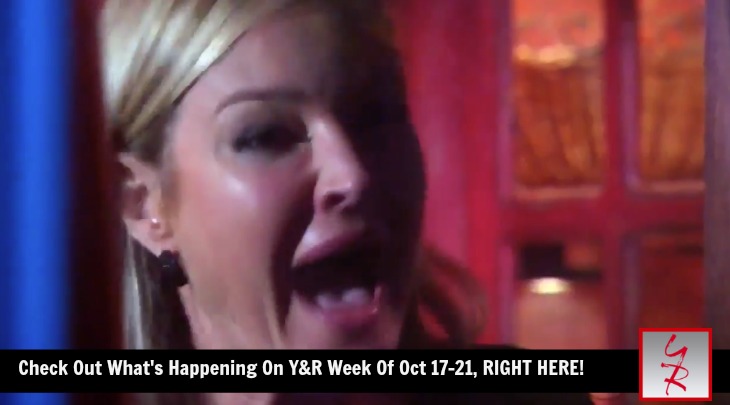 Take A Minute to Try Our Fun Y&R Puzzle!
Great Y&R Products!