'General Hospital' News: Ingo Rademacher Returning To 'GH' As Jasper Jax, Already Filming New Scenes!
General Hospital spoilers tease that that Ingo Rademacher (Jax, GH) sent out a message to his followers on his Instagram account and revealed he is back taping scenes in Port Charles! Ingo posted a picture of himself with the caption "Back!@generalhospitalabc". This is undoubtedly great news. Ingo did not give any details or indicate any further information or speculate why Jax is back in Port Charles again so soon.
However, you can bet that he will shake things up in Port Charles whenever he does return. With the recent turn of events involving his ex-wife, Carly (Laura Wright, GH) and the tragic death of her son, Morgan Corinthos (Bryan Craig, ex-Morgan), you can bet that he is back to either lend Carly his support or will he return to cause her more grief?
With Jax's daughter, Josslyn being upset and understandably angry after just discovering that Sonny (Maurice Benard) might have possibly been behind the car bombing that was meant for his enemy, Julian Jerome (William DeVry) that unfortunately killed Morgan, will Jax return to spark another custody fight?
Then again, GH viewers know that for years, Jax and Sonny have not gotten along on any level. They have been sworn enemies for years. In Sonny's frame of mind after what has recently happened to the Corinthos family, will Jax's presence threaten Sonny and Carly's happiness? Definitely so! Especially with Carly being so resentful and angry and still at the point where she still blames her husband for Morgan's unfortunate death.
This would be the perfect time for a third party to come in and interfere with Sonny and Carly's marriage. It would be so easy for Jax to return and should he decide he wants to get back with Carly, now would be the best time due to all the chaos surrounding them all. Of course, this is speculation at this point. There is no indication exactly what brings Jasper Jax back but we shall soon find out! Keep checking back with Soap Opera Spy for all the latest news on this GH return!
Share your thoughts in the Comments section below, on our Facebook Page,  join our Facebook Group or Head over to our Discussion Board to Talk Soaps Daily!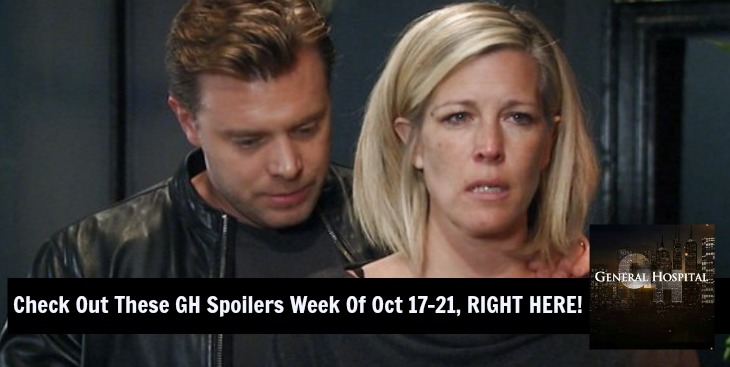 Check Out This Fun General Hospital Halloween Puzzle!
GREAT GH PRODUCTS!