'The Bold and the Beautiful' Spoilers: Eric Makes SHOCKING Move – Cuts Off Ridge, Signs Forrester Creations Over To Quinn And Wyatt
'The 'Bold and the Beautiful' spoilers indicate that Eric Forrester (John McCook) will soon wake up and be back up on his feet very soon. Quinn (Rena Sofer) will fill Eric in on everything that has been going on since he has been in a coma.
She will inform him about how Ridge(Thornsten Kaye) and Steffy (Jacqueline MacInnes Wood) have tried to strong arm Quinn to staying away from him and prevented her being with him at his bedside, up to getting a restraining order and trying to kick her out of the house, not to mention how Ridge and Steffy lied about the document in regards to whom he choose to be Power of Attorney.
His newly wedded wife makes it clear she is not ever leaving his side again regardless of what his family thinks or does. Eric cannot believe that his family will sink to this level. Of course, this will only add to his fury since he was already upset with his family for boycotting his wedding to Quinn and despite their objections and decision not to attend, Eric and Quinn went ahead with their planned nuptials.
In the coming weeks, Eric will be grateful to Quinn and see her devotion towards him as solid proof that what they have is real and true and his anger and resentment for his son, Ridge and his grand-daughter, Steffy will only escalate after all is revealed.
Spoilers indicate that Eric will make a shocking decision and wage war on those that he feels betrayed him so badly. Eric decides to remove Ridge from the family business and appoints his wife, Quinn and her son, Wyatt (Darin Brooks) to be in charge. The Forrester's knew that Eric would be upset with their decision to take matters into their own hands once he fully recovered but will they see this coming? I think not.
Eric will cut ties with his family and make it clear where his heart truly lies, with Quinn, his wife. At this point, there is nothing more Ridge and Steffy can do to fight back, they have no power anymore and after all, Eric's business is all his and with Eric handing the reigns over to Quinn and her son, they are one big happy family.
Will they fight Eric to regain control for their position in the family business or accept the inevitable, that Eric and Quinn love each other very much and take note of the fact that they stepped way out of bounds? How nasty will the fight for the family business really get? No doubt with Quinn by his side, Eric will not care at this point. The damage has been done. Stay tuned for more drama from The Forresters by tuning into The Bold and Beautiful weekdays on CBS.
Share your thoughts in the Comments section below, on our Facebook Page,  join our Facebook Group or Head over to our Discussion Board to Talk Soaps Daily!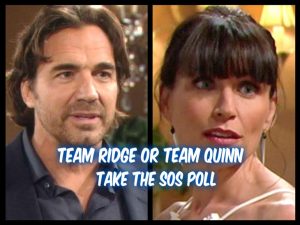 GREAT Bold & Beautiful PRODUCTS!