'The Bold and the Beautiful' Spoilers: Is Wyatt's Marriage Really Over, Steffy Turns To Liam – Spencer Brothers War Reignited
"The Bold and the Beautiful" spoilers tease that Steffy (Jacqueline MacInnes Wood) ends her relationship with Wyatt permanently after the decision Wyatt (Darin Brooks) made to stand by his mother instead of his wife in regards to keeping the truth from Quinn (Rena Sofer) about who Eric (John McCook) gave Power of Attorney to.
After Wyatt overheard their scheming plans to keep the truth from Quinn which would give the Forrester family the leverage to make all the decisions for his family and career, their scheme was suddenly blown wide open when Wyatt overheard Steffy along with her father, Ridge Forrester (Thornsten Kaye) discussing keeping this huge secret to themselves.
Wyatt eventually confronted Steffy and made it clear that he did not agree with their decision and marched over to the Forrester house and took a stand against Ridge and told his mother the big news. This no doubt gives Quinn the leverage she needs to stop Ridge and Steffy from kicking her out of the house as well as from Eric's bedside.
Once Wyatt returned back to Steffy, she was furious with Wyatt and as we saw in the most recent episode, Steffy ended her relationship with Wyatt because of this decision. Of course, viewers know that Quinn is not the only reason for Steffy's change of heart toward her marriage with Wyatt, we expect Steffy to go back with Liam now that she has split up with her husband who happens to also be Liam's brother.
Recently, Wyatt was left heartbroken and begged her not to give up on their marriage, but Steffy did not want to hear it and walked away from him.  Will this stir up a pot of resentment and hatred between the two brothers? Could this break-up go from heartbreak to war soon? Wyatt has been fighting for months to keep Steffy away from Liam and trying to prevent this reunion. Of course, it would be a breath of fresh air for many viewers to see Wyatt turn away from Steffy completely and many enjoyed the stand he took for his mother.
Will Wyatt go further and help Quinn in the fight against the Forrester family to help them accept her as Eric's wife and power of attorney? Perhaps, Wyatt will focus on getting Steffy back or he could fight back another way, Wyatt could side with Quinn after he learns that Steffy's decision to go back with Liam. Will his anger over his marriage be just what is needed for Wyatt to step up and be there for his mother?  Stay tuned!
Share your thoughts in the Comments section below, on our Facebook Page,  join our Facebook Group or Head over to our Discussion Board to Talk Soaps Daily!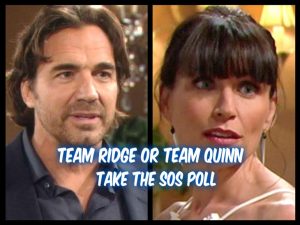 GREAT Bold & Beautiful PRODUCTS!