'General Hospital' Weekly Spoilers October 24 – 28: Maxie And Nathan's Nightmare Not Over – Bobbie Suspects Nelle Up To Something – Robin Returns!
General Hospital (GH) spoilers for the week of Monday, October 24 to Friday, October 28, 2016 promise to bring much needed love, when it comes to Laura Webber (Genie Francis) and Dr. Kevin Collins (Jon Lindstrom).  This week they agree to go out again.  It's not the only thing Laura deals with.  Laura had made the decision to sell Windermere, hoping to rid her family of anything Cassadine, but like her daughter Lulu Falconeri (Emme Rylan) said, it's never that simple!  Will Lulu's words be an omen of what's to come?
They are not the only Spencers who have their suspicions, as this week we also learn that Bobbie Spencer (Jacklyn Zemen) does not trust Nell Hayes (Chloe Lanier) at all!  Alexis Davis (Nancy Lee Grahn) and Carly Corinthos (Laura Wright) are able to connect, as they both understand what the other is going through when it comes to their mob husbands.
Sonny Corinthos (Maurice Benard) has been distraught and lost since the tragic death of his son, Morgan (Bryan Craig), but that doesn't stop him from getting into a confrontation with Jason Morgan (Billy Miller).  Sonny will also come face to face with Scott Baldwin (Kin Shriner) this week, and you can bet it will not be a pleasant conversation, as Sonny knows Scott is the Jerome Family's lawyer.
Sources also reveal that Michael Corinthos (Chad Duell) is having a harder time than he's been letting on.  He is mourning Morgan's death feeling responsible because he should have been paying more attention to Morgan, instead of work and the loss of Sabrina (Teresa Castillo) and her son Teddy.
Michael has been trying to keep an open mind and wants to believe that his father didn't really plant the bomb that killed his brother, but he has doubts, and doesn't really know which way to turn.  He is stuck between taking care of his grieving mother or defending and protecting his father who is also grieving.
Michael has Jason by his side to find out who really tried to kill Julian Jerome (William DeVry), but is Michael prepared for the answers?  This week Jason confronts Curtis Ashford (Donnell Turner) as he continues to work for Julian, determined to find answers about the car bomb.  Jason issues a warning to Curtis about working for the Jeromes.
Ever since Claudette Boland (Bree Williamson) arrived in Port Charles, it has been lie after lie with her.  She tried desperately to break up Maxie Jones (Kirsten Storms) and Nathan West (Ryan Paevey) until she discovered that the man she had an affair with, Dr. and Priest Griffin Munro (Matt Cohen), was also living there.
When Nathan put the pieces together and Griffin rebuffed her, she brought up the story of her daughter Charlotte (Scarlett Fernandez) being in danger from Valentin Cassadine (James Patrick Stuart).  She lied about her paternity, even stealing his mother, Dr. Liesl Obrecht's (Kathleen Gati) hair for a DNA test.  As the mystery continues, Maxie and Nathan will receive a disturbing video, we are not sure who or what is on it, but you can be sure it will have everything to do with Claudette.
Claudette continues to mess with Griffin who is morally conflicted between being a priest or being a daddy.  He confides in Anna, who had just found a new purpose in life.  She's willing to help Griffin with Charlotte; after all, she is Duke's grand-daughter, right?  Anna and fans of Dr. Robin Scorpio Drake (Kimberly McCullough) should be excited, because she returns on screen this week on Thursday, October 27.
Be sure to tune into ABC's General Hospital to catch up on all these stories and more.  Check Soap Opera Spy often for updates, news, rumors and spoilers!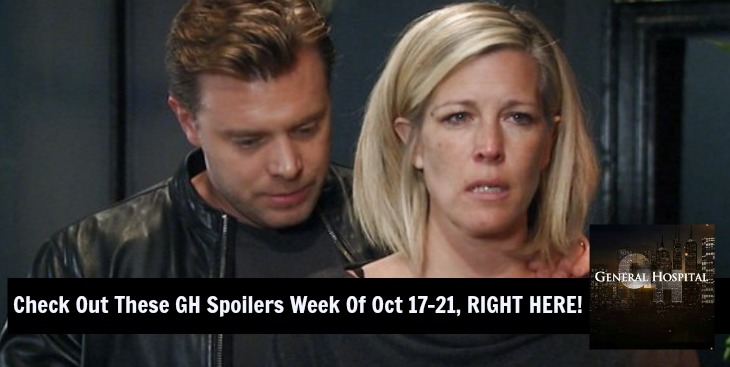 Check Out This Fun General Hospital Halloween Puzzle!
GREAT GH PRODUCTS!