'General Hospital' Spoilers: Julexis Isn't Over – Julian And Alexis' Relationship Takes Interesting Turn Courtesy Of Bombing Investigation
Does General Hospital's resident mobster Julian Jerome deserve a second chance with legal eagle Alexis Davis (Nancy Lee Grahn)? GH spoilers reveal that a reunion between these two may already be in the works!
It's hard to believe that Alexis can forget all about the night that Julian tried to kill her. What kind of husband does that? And even if she could, half of Port Charles would jump up to remind her of his nefarious deed! Which is a good thing considering Alexis' track record with shady men, including Sonny Corinthos (Maurice Benard).  Sonny and Alexis share a daughter together, as do Julian and Alexis. She obviously has a soft spot for tough guys!
Right now, no one is a fan of Julexis. Except for Julian!
For the foreseeable future Julian will continue to do everything in his power to win back the love of his life. He has no qualms about trying to kill Alexis, but what else would you expect from a hard core mobster?
Thus far his pleading and puppy dog eyes have failed to win Alexis back to his side, but is there a secret waiting to be revealed that will help Julian in his quest?
General Hospital spoilers tease that viewers will soon discover a few choice things that could change the course of Julian and Alexis' love story. ABC Soaps in Depth reports that, "the investigation of the car bombing and Sonny's role in it," will be pivotal to the outcome of this major GH storyline.
Sonny (Maurice Benard) lost his son Morgan when the boy stole Julian's car and it exploded with Morgan inside. Or so everyone thinks! Could Morgan be alive, and if so, could he have knowledge that would influence Julexis?
It's hard to imagine how Sonny and Morgan might affect the outcome of Julian and Alexis' romance.  But unpredictability is precisely what makes soaps so enjoyable!
Share your thoughts in the Comments section below, on our Facebook Page,  join our Facebook Group or Head over to our Discussion Board to Talk Soaps Daily!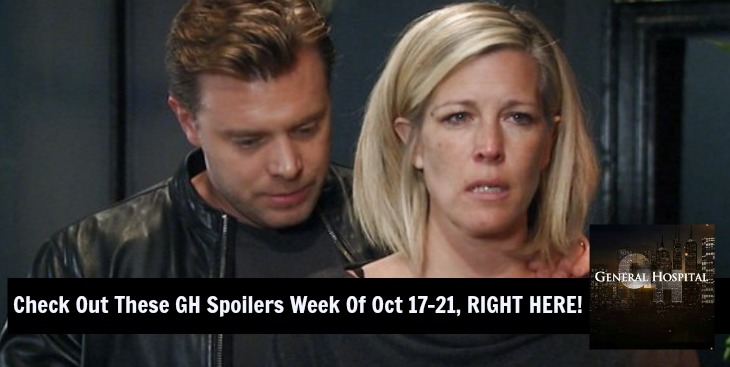 Check Out This Fun General Hospital Halloween Puzzle!
GREAT GH PRODUCTS!