'General Hospital' Spoilers: Claudette Flees Port Charles As Maxie Is Taken Hostage – Anna Devane Is On The Case!
General Hospital spoilers reveal that Maxie's (Kirsten Storms) life is in jeopardy when Claudette (Bree Williamson) takes leave of Port Charles.  Will Maxie's loved ones find her before it's too late? Or will Claudette finally get her wish and be rid of meddling Maxie?
Maxie had Claudette's number as soon as the slinky blonde hit town. Maxie's fiancé Nathan (Ryan Paevey) was quick to give his ex-wife the benefit of the doubt, but Maxie had her spidey-sense going. She knew Claudette was trouble but she didn't know how much trouble Claudette would bring to town.
Claudette's latest deception saw her tricking Nathan into believing that he was the baby daddy of her adorable daughter, Charlotte. Armed with the results of a paternity test showing that Nathan isn't the father, Maxie goes to confront her rival.
General Hospital spoilers show that when Claudette doesn't answer her knock, Maxie enters the hotel room but finds more than she's looking for!
A thug is lying in wait for Claudette and he jumps to the wrong conclusion when he sees Maxie enter the room. Uh-oh, where did her spidey-sense go?
Although Maxie convinces the man that she's not Claudette, he realizes the danger of letting her go free and takes her hostage. When Claudette figures out what transpired in her hotel room, she hightails it out of town to keep herself, and Charlotte, from danger.
Claudette has made it known that she believes Valentin Cassadine (James Patrick Stuart) is a threat to her and her daughter. Armed with this lead, Anna (Finola Hughes) works to find the evil mastermind who held several Port Charles residents captive this summer; no one has forgotten that Nikolas Cassadine (Tyler Christopher) lost his life during the siege.
Charlotte's real father, Griffin Munroe (Matt Cohen), has a stake in finding Valentin and keeping his daughter safe. He helps Anna in her search, and feels partly to blame for the situation.
Will the good-hearted doctor regret his change of heart toward Claudette? Spoilers reveal that Claudette is about to pull a move that will blindside those unlucky enough to be caught in her web.
Share your thoughts in the Comments section below, on our Facebook Page,  join our Facebook Group or Head over to our Discussion Board to Talk Soaps Daily!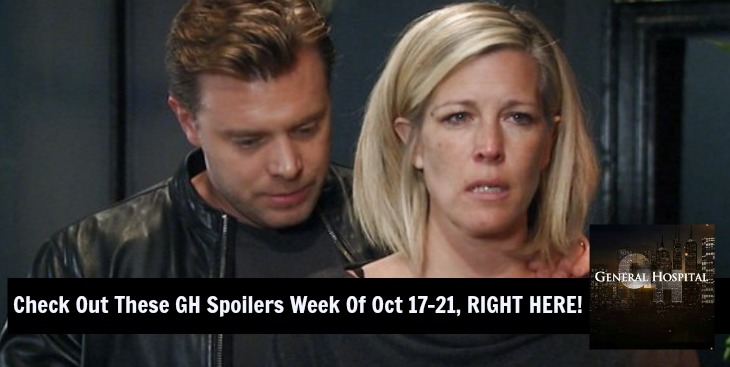 Check Out This Fun General Hospital Halloween Puzzle!
GREAT GH PRODUCTS!