Y&R Spoilers: Jack And Ashley's Search Fails, Abby's Trail Goes Cold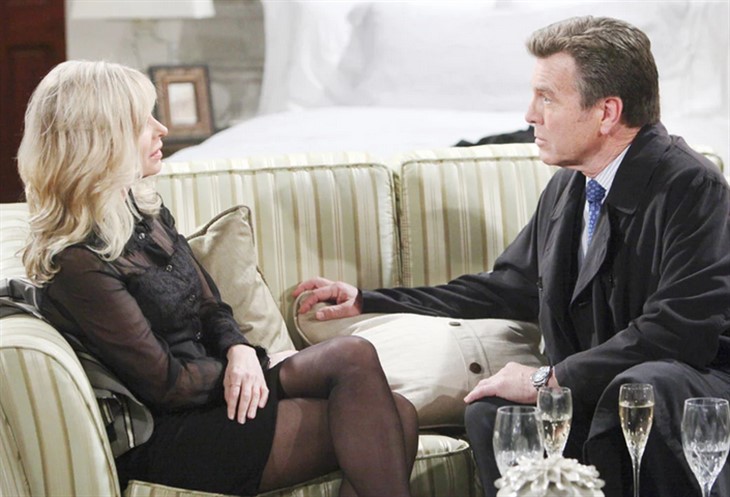 The Young and the Restless (Y&R) spoilers reveal that Jack Abbott (Peter Bergman) and Ashley Abbott (Eileen Davidson) go to Spain to bring Abby Newman-Abbott-Chancellor (Melissa Ordway) home. However, Abby's trail runs cold. Fans already know that Abby reunites with Chance Chancellor (Conner Floyd), so why doesn't anyone know?
The Young And The Restless Spoilers – Leaving Behind A Clue
Y&R spoilers reveal that Victor Newman (Eric Braeden) and Devon Hamilton (Bryton James) found the hotel room that Abby checked into after disappearing from home. By the time they got there, Abby was already gone. Devon did find a clue, which led Victor to the conclusion that Abby went to Spain to search for Chance.
Y&R Spoilers – Kim Dunaway's Information
What nobody realizes is that Abby didn't go to Spain on a hunch. Abby called Kim Dunaway (Roxanne Hart), who wouldn't talk at first. However, Kim called Abby back once she was outside and confirmed that Chance is alive. Kim told Abby that Chance was with them but was not in good shape. Abby was told that Chance needs her, which is why she left the hotel room so quickly.
The Young And The Restless Spoilers – Search Mission Hits Dead End
The Young and the Restless spoilers reveal that Victor doesn't want Ashley going to Spain. Now that he knows a little more information, Victor feels it's too dangerous. However, Ashley gets her way and goes anyway. Ashley won't be alone and accepted Jack's offer to go with her.
Unfortunately, Ashley and Jack will hit a dead end when Abby's trail suddenly goes cold. This will send everyone into a panic. However, there might be a good reason why Abby's breadcrumbs suddenly vanish.
Y&R Spoilers – Walking Into Trouble
Kim wasn't able to talk to Abby inside her house and had to call her back. That indicates Chance could be in hiding and the same people who bombed the safehouse might be looking for him. Considering the high stakes, Kim might not have wanted to take a chance that the phone was bugged. So, it might not be an issue of having to be outside her house to talk to Abby, but that she needed to use a burner phone.
It's also possible that at the time Abby called, maybe there was someone inside Kim's house that couldn't be trusted. Maybe that person was looking for Chance. So, when Abby's trail runs cold, there could be a very good reason for that. Unfortunately, it means that instead of Chance being in danger, now Abby is too. Thankfully, we know that Chance and Abby do come back to Genoa City together, so the couple survives whatever danger they face in Spain.
Be sure to catch up on everything happening with Y&R right now. Come back often for The Young and the Restless spoilers, news and updates.