Y&R Spoilers: Amanda Dumps Devon, Helping Abby Ruins Relationship?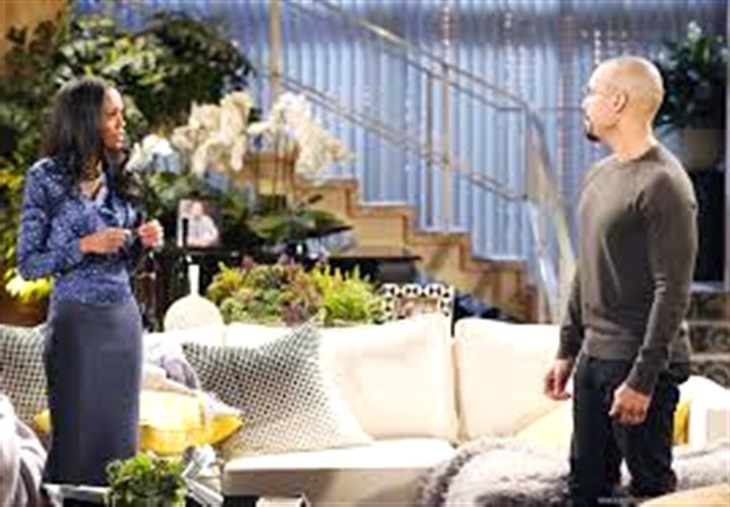 The Young and the Restless spoilers reveal that Amanda Sinclair (Mishael Morgan) just moved in with Devon Hamilton (Bryton James). While Amanda is dealing with her father's trial, Devon is spending all his time trying to help Abby Newman-Abbott-Chancellor (Melissa Ordway). Could Devon's focus on Abby ruin his relationship?
The Young And The Restless Spoilers – Amanda Sinclair Moves In
Y&R spoilers reveal that Amanda and Devon have already been through some rough patches since getting together. One was when Devon and Elena Dawson (Brytni Sarpy) slept together. Eventually, Elena and Nate Hastings (Sean Dominic) reunited, as did Devon and Amanda.
Soon after Devon and Amanda got back on track, they expressed their love for each other and moved in. This was really hard for Amanda, so it was surprising that she jumped in so quickly after reuniting with Devon. However, they seemed pretty happy right after moving in together. So, it was only going to be a matter of time before they faced another obstacle.
Y&R Spoilers – Baby Issues
Abby has been going through a lot since Chance Chancellor (formerly Donny Boaz) left on his undercover assignment. While Abby coped with missing her new husband, the plan to start a family wasn't delayed. Even with Chance gone, he urged Abby to continue with the surrogacy plan.
Then, Mariah Copeland (Camryn Grimes) went missing and Ben "Stitch" Rayburn (Sean Carrigan) was exposed as the kidnapper. Devon and Abby helped Mariah give birth in captivity, which was emotional for all three of them. Devon then tried to help both Abby and Mariah as the dynamic was suddenly different.
The Young And The Restless Spoilers – Helping Abby Newman-Abbott-Chancellor
The Young and the Restless spoilers reveal that Abby had trouble soothing the baby. The person she called wasn't the pediatrician or her mom, but Devon. Amanda tried to be supportive, but she might have had a nagging feeling that this was only going to be the beginning. As she always says, "Abby needs you. You better go to her."
Now Abby is in full crisis mode as she struggles to cope with Chance's alleged death. Plus, Mariah is questioning if Abby can take care of the baby properly while grieving. Meanwhile, Devon is sticking up for Abby.
Y&R Spoilers – Devon Hamilton's Relationship
Soap Opera Digest questioned Ordway about Abby and Devon's relationship and what the future holds. The actress wouldn't give any specifics, but did say some exciting stuff is coming up for the two characters. One has to wonder if Devon's focus on Abby will affect his relationship with Amanda. Will Devon end up ruining his own relationship by becoming too involved with Abby?
It would make sense since soaps tend to bring someone back from the dead just when their loved one moves on. So, we will have to see what happens.
Be sure to catch up on everything happening with Y&R now. Come back often for The Young and the Restless spoilers, news and updates.