The Young And The Restless (Y&R) Spoilers: Kyle Sees Alarm Bells With Tara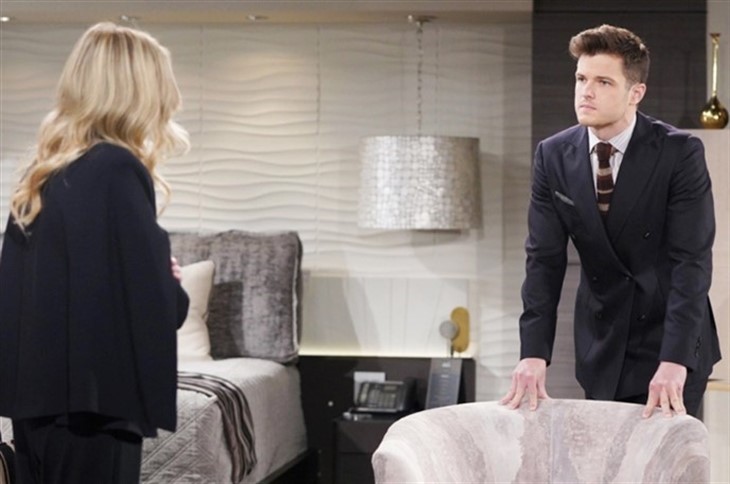 The Young and the Restless (Y&R) spoilers for Monday, June 7, 2021, Kyle becoming suspicious of the mother of his child — or is this really his child?
The Young And The Restless Spoilers – What Is Tara Locke Up To?
Kyle (Michael Mealor) is finally learning to accept that he's a father and is actually rather enjoying it. After all, young Harrison is absolutely adorable. However, Tara (Elizabeth Leiner) is starting to do strange things and that is alarming to Kyle. What could she be up to? Ashland (Richard Burgi) had already warned Jack (Peter Bergman) that Tara could be a problem but Kyle didn't want to hear it. After all, he had fallen for this woman that fateful summer in The Hamptons.
This is the kind of strange behavior that causes Kyle to believe Tara is not telling him everything about her marriage or her son. Has Kyle been tricked into believing he is a father when he is not? Or was he tricked into believing Ashland is the big bad of Genoa City now? Maybe he is a man he doesn't need to fear after all. But why would Tara put on such a sad act if none of it is true? Could this be the kind of Fatal Attraction situation that Summer (Hunter King) might want to keep her eye on?
Y&R Spoilers – Trouble In Paradise?
Billy (Jason Thompson) and Lily (Christel Khalil) are blissfully happy together. They love their jobs and working together and also love their new home together. After all, it has to be better than living in a hotel no matter how nice that hotel is. However, things aren't all rosy as the two have a difference of opinion on Monday. Is this difference of opinion business or personal?
They seem to have gotten past every obstacle from Billy's past, including the fact that he slept with Summer and Victoria's (Amelia Heinle) little obsession with this version of Billy. She did use their kids numerous times to keep him away from Lily when the two first started dating. But Victoria is interested in Ashland now. So, what could be getting in Lily and Billy's way? Stay tuned to The Young and the Restless weekdays to see how these stories play out.