Days Of Our Lives Spoilers: John Black Collapses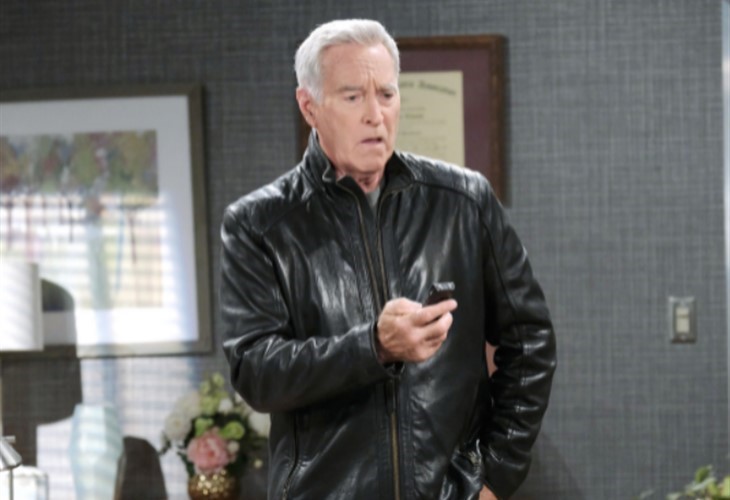 Days of Our Lives spoilers tease that John Black (Drake Hogestyn) will collapse, after being too stubborn to go to the hospital in an upcoming episode of Days of Our Lives!
Days Of Our Lives Spoilers – John Black Was Focused In Only On Finding "Doc"!
Days of Our Lives viewers will recall that John was focused only on finding his beloved "Doc" and making sure that she got deliverance from the devil! When Steve Johnson (Stephen Nichols) finally found him after getting a clue from Johnny DiMera (Carson Boatman) about seeing her at the DiMera crypt on Halloween night, Steve rushed Susan Banks, (Stacy Haiduk) who had stabbed herself into the DiMera mansion while EJ DiMera (Dan Feurreriegel) panicked at the sight of his bloodied mother and called 911.
Steve, in the meanwhile, sent Tony and Anna DiMera (Thaao Penghlis, Leann Hunley) out to set John free; but he wouldn't go to the hospital, although he drank a lot of water. He would have been dehydrated after being chained up for several weeks! He found out Marlena Evans (Deidre Hall) went to the Horton house, where he then headed but missed her – having been told by their daughter Belle Brady (Martha Madison) that Shawn Brady (Brandon Beemer) had attempted to take her to the Salem Police Department! John arrived at a scene where there had obviously been a dangerous confrontation – and Days of Our Lives viewers will likely see John collapse there!
DOOL Spoilers – Julie Williams And Shawn Brady Will Get John Black To The Hospital
It makes sense to Days of Our Lives viewers that John may collapse at the Horton House; Days of Our Lives viewers will recall that John would be weak from not eating for so long, and had only had a lot of water at the DiMera mansion. The water may have helped for dehydration, but John's blood sugar is likely to be pretty low with having gone without food for so many days! MarDevil didn't seem to think she needed to feed her captives to keep them alive – but then, she didn't care to keep them alive anyway, did she?
She had ordered Susan to kill John or she would kill EJ, and Susan stabbed herself! She may have bled out if Steve hadn't shown up when he did! John's stubbornness in refusing to get checked out doesn't do him any favors – he won't be in shape to tangle with MarDevil without getting some food in him, and so he collapses! Julie Williams (Susan Seaforth Hayes) and Shawn Brady (Brandon Beemer) will see he gets to Salem University Hospital for treatment, and Shawn will likely get checked out as well, considering MarDevil broke through her handcuffs and slung Shawn across the dining table and against the opposite wall, hitting his head!
Days Of Our Lives Spoilers – In The Meantime, MarDevil Is On The Run!
In the meantime, Days of Our Lives viewers will recall that MarDevil went on the run – she showed up at Ben and Ciara Weston's (Robert Scott Wilson, Victoria Konefal) house with an unbelievable story of John abusing her! Days of Our Lives viewers will recall that after John had his stroke several months ago, he was experiencing some erratic outbursts of temper.
MarDevil may refer to that to make her story more believable, because Ciara will have her doubts, although Ben may remember something about John's temper problems. Ciara was missing during that time. John had been pushed to the brink by Sami DiMera (Alison Sweeney) who pushed back so hard in a fierce argument that John had collapsed! But this time, Sami has nothing to do with it and John doesn't suffer a stroke, he just needs some tender loving care and some good nourishing food in his stomach!
Stay tuned to Days of Our Lives, and keep checking Days of Our Lives spoilers frequently for all the latest news, updates, and developments!