General Hospital Spoilers for Monday, March 2: Sasha Talks To Willow About Wiley – Jordan Is Upset With Curtis – Jason Draws Some Conclusions –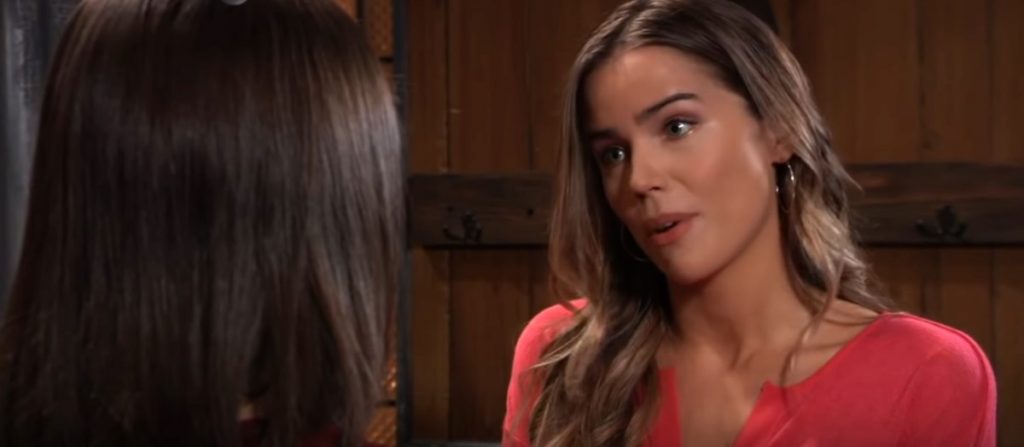 General Hospital spoilers for Monday, March 2 tease another exciting day of drama for GH fans after a confrontational Friday cliffhanger!
General Hospital Spoilers – Sasha Gilmore Talks To Willow Tait About Wiley/Jonah Corinthos
Sasha Gilmore (Sofia Mattsson) talks to Willow Tait (Katelyn MacMullen) about Wiley/Jonah Corinthos (Erik and Theodore Olson). She tells Willow that Wiley is not the only one that needs him – could she be talking about Michael Corinthos (Chad Duell)?
Michael did tell Willow that Wiley needed her to stay in his life but Willow looked a little questionable about it. General Hospital viewers will recall that she told her boyfriend, Detective Harrison Chase (Josh Swickard) that Wiley needed her to stay in his life, but a father needs what his child needs as well, so that might be what Sasha is talking about.
GH Spoilers – Elizabeth Baldwin Has Questions
At General Hospital, Elizabeth Baldwin (Rebecca Herbst ) has questions – she knows that retired Lieutenant Marcus Taggert (Real Andrews) has been brought in after being shot in the stomach. She obviously must know the shooting is related to the same people who targeted Sonny Corinthos' (Maurice Benard) family, and asks someone "what do they want with Taggert?" We haven't seen Chase anywhere at the crime scene where Taggert was shot, so it is possible that she's talking to him.
General Hospital Spoilers – Jordan Ashford Is Upset With Curtis Ashford
Also at General Hospital, Commissioner Jordan Ashford (Briana Nicole Henry) is upset, but maybe a little bit proud of her husband Curtis Ashford (Donnell Turner) who helped in the rescue of Trina Robinson (Sydney Mikayla) and Cameron Webber (William Lipton) from the warehouse where an Uber driver who was really one of Cyrus Renault's (Jeff Kober) goons kidnapped them to, in an obvious targeting of Taggert and his daughter. She tells Curtis he could have been killed!
GH Spoilers – Jason Morgan Draws Some Conclusions
Jason Morgan (Steve Burton) is on the phone with someone, it sounds like it is probably Sonny, as he has drawn some conclusions and tells him that the Commissioner and Taggert are connected somehow. They do not yet know that Jordan also was in the team of DEA agents who put Cyrus Renault away. Taggert had asked for their help against Renault and Sonny and Jason have not said yay or nay, although Jason did help save rescue Trina and Cameron along with Curtis, and got Taggert to General Hospital after he was shot in the stomach.
General Hospital Spoilers – Sonny Corinthos Offers Brando Corbin Protection
At the Corinthos house, Sonny offers Brando Corbin (Johnny Wactor) protection – he tells him he's not going to leave him unprotected! For one thing, Brando truly is a part of the Corinthos family, although a distant cousin and he saved Carly Corinthos' (Laura Wright) life. Once Renault figures out that Brando and his mother Gladys Corbin (Bonnie Burroughs) are related to Sonny, they will be on his target list as well so they will definitely need protection!
General Hospital Spoilers: Maura West's Daughter, Birdie, Showcases Acting Talent #GH #GH56 #GeneralHospital #ABCSoaps #ABCDaytime #PortCharles #SoapOpera #DaytimeTV #DaytimeDrama #DaytimeSoaps #SoapNews #DaytimeStories #SoapStories https://t.co/HiXYGIcYgI

— SOS/CTS/HH (@SoapOperaSpy) February 28, 2020
GH Spoilers – Laura Baldwin Is Upset
Mayor Laura Baldwin (Genie Francis) is quite upset at General Hospital after hearing about what happened with Cameron and Trina being kidnapped and Marcus Taggert being shot. Other General Hospital spoilers tease that Laura will declare war on Cyrus and enlist Sonny and Jason in her "army" and this may be part of that conversation.
General Hospital Spoilers – Trina Robinson Is Relieved As Her Dad Wakes Up
Trina, in the meantime, has not left her dad's side since he was brought into General Hospital with a bullet wound to the stomach. In Marcus' hospital room, she has her eyes trained on him as he is hooked up to IVs, EKGs, and other monitoring equipment and she notices some activity and shouts, "He's waking up!"
Stay tuned to GH and keep checking General Hospital spoilers frequently for all the latest news, updates and developments!