Coronation Street Spoilers: Sinead Has A Shocking Confession To Billy; Double Exit Storyline Confirmed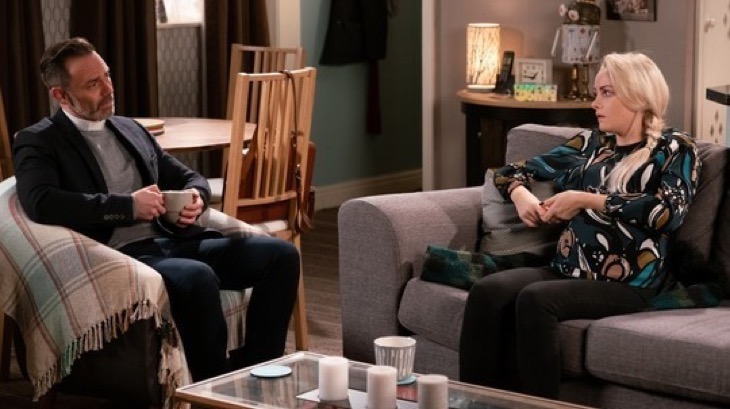 They say lies will eventually catch up to you and that is exactly what Sinead (Katie McGlynn) feels when Daniel  (Rob Mallard) offers to accompany her to her chemo session. However, she ends up going on her own after lashing out at Daniel when he was about to pick her up at the Factory. Feeling guilty, Sinead asks Billy (Daniel Brocklebank) to pray with her. At the flower shop flat, Sinead shocks Billy when she confessed that she has been skipping her chemo appointments, "Coronation Street" spoilers revealed.
Elsewhere, Nick (Ben Price) and Carla's (Alison King) new client Jo threatens to bring her business elsewhere after she walked in on the two criticizing each other at the office. On a different note, Nick meets up with Elsa (Kelly Harrison) and tells her that he will pay her back provided that she keeps Leanne out of their divorce proceedings.
To her surprise, Eileen (Sue Cleaver) was able to put together that the £5,000 stuffed on her cupboard, which Seb (Harry Visinoni) finds, later on, could be from one of Phelan's shady deals.
INTERVIEW: We spoke to Katie McGlynn to find out how Sinead will cope now that she's realised she might have made a terrible mistake.
👉https://t.co/ogYnrpx1IH#Sinead #Corrie pic.twitter.com/OXFYn5BAyj

— Coronation Street (@itvcorrie) December 1, 2018
Meanwhile, fans will be bidding farewell to two of Corrie's cast members next week. ITV bosses confirmed that two characters namely, Fiz Brown, played by Jennie McAlpine, and Hope Stape, portrayed by Isabella Flanagan, will say goodbye to Weatherfield.
Viewers have long known that Fiz Brown will be off the screen for a while as Jennie goes on maternity leave. Meanwhile, the behavior of her on-stage daughter, Hope, has gone out of hand in the past few months. Her departure will ensue as Fiz takes a drastic measure to make sure her daughter does not harm herself or others.
Next week, Tyrone (Alan Halsall) will take Evelyn Plummer's (Maureen Lipman) pooch Cerberus out for a walk and he'll be taking Hope with him. Cerberus gets lost after Hope puts it on a tram to Rochdale and tells everyone that she's not sorry for what she's done. The last straw that convinces Fiz to bring her daughter to a professional is when she bites Tyronne's daughter Ruby. (Macy Alabi) Fiz sends Hope to a special school in Birmingham and plans for both of them to move to the city.
ITV released images of Fiz and Tyronne saying their goodbyes. In an interview with ITV's Lorraine, Jennie hinted the possible return of her character Fiz. "So far I've not read any scripts where I die, so that's good."
And visit our dedicated Coronation Street page for all the latest news, interviews and spoilers