"The Young and the Restless" spoilers for Wednesday, October 19, tease that Phyllis (Gina Tognoni) and Jack (Peter Bergman) will discuss their next move. Phyllis had a chance to look over the Newman financial files on the flash drive. They seem to have a huge scoop on their hands.
Phyllis and Jack could do serious damage if they take this news to GC Buzz. Victor (Eric Braeden) and his company could go down in a big way. However, there are risks involved. They have to make sure they proceed with caution.
Of course, Jack isn't happy about having to work with Phyllis on this. He might remind his ex that he's only focused on business. Jack has no intention of bonding with Phyllis over their scheme. He wants everyone who betrayed him to suffer.
Jack won't be pleased when he sees that Phyllis still has the flash drive. He'll state that he told her to destroy it. Instead, Phyllis will give it back and insist that she's doing Jack a favor whether he likes it or not. Will Jack approve of Phyllis' decision? "The Young and the Restless" rumors hint that this plot will take a shocking turn.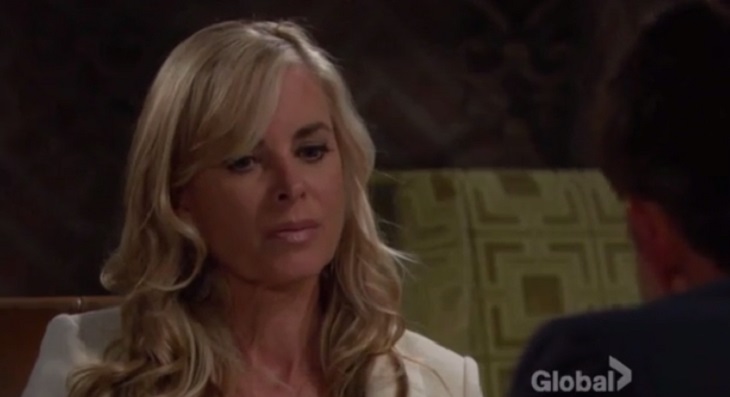 Meanwhile, Y&R spoilers say Billy (Jason Thompson) will be convinced that Phyllis is hiding something. Her bizarre behavior tipped him off. Billy won't know if it's about Jack, Jabot or both. He'll just be worried about the consequences. Billy will take his concerns to Ashley (Eileen Davidson) and hope that she can offer some hints.
Ashley will have to decide how to respond to Billy's suspicions. Elsewhere, Mariah (Camryn Grimes) will also be in a tight spot. Paul (Doug Davidson) checked the visitor logs at Patty's (Stacy Haiduk) facility and now he knows that Mariah stopped by. He'll confront Mariah and demand some answers.
"The Young and the Restless" spoilers say Mariah will try to give Paul a decent explanation. Perhaps Mariah could claim she had a hunch that Patty was Sharon's (Sharon Case) stalker. She could argue that she paid Patty a visit without Sharon's knowledge. That's not true, but at least it would take some of the heat off Sharon.
Regardless, it sounds like Mariah will dig a deeper hole for herself. She's going to be in almost as much trouble as Sharon when the truth eventually comes out. We'll give you updates as more details emerge. Stay tuned to Y&R and don't forget to check Soap Opera Spy often for the latest "Young and the Restless" spoilers, rumors, updates and news.
Share your thoughts in the Comments section below, on our Facebook Page,  join our Facebook Group or Head over to our Discussion Board to Talk Soaps Daily!
Great Y&R Products!