"The Young and the Restless" spoilers for Monday, October 24, tease that Jack (Peter Bergman) will meet with a mystery contact about his revenge against Victor (Eric Braeden). In an alley, a man gets a phone call from Jack. They meet up and Jack wants confirmation that the info he received was legit. The man assures Jack that it's all true. Jack is ready to move forward with the next round of vengeance.
At Jabot, Victor speaks with Phyllis (Gina Tognoni) in her office. He thinks Phyllis may have handed over the files to GC Buzz. Victor suggests that Phyllis should give him updates if Jack is planning anything else. If they can stop Jack's next stunt, Victor won't have to seek retribution. Vic leaves Phyllis to think it over.
Jack and Phyllis reconvene for more revenge talk. She fills him in on Victor's visit, but promises she's trustworthy. Jack finally opens up about his intentions. Later, Phyllis is in the loop on Jack's new plot. She feels like it's crazy, but Jack just wants to know if she's on board or not.
At the athletic club, Hilary (Mishael Morgan) pesters Ashley (Eileen Davidson) about an interview. Ashley isn't interested, but Hilary won't give up her search for answers. She wonders if Phyllis played a role in the leaked info.
Devon (Bryton James) interrupts, so Ashley takes off. She runs into Victor and he warns that Jack had better back off. Victor walks over to Michael (Christian LeBlanc) and says he wants to file a lawsuit. He points out that Michael owes him for betraying him at his trial. Once Michael agrees, Victor admits that he wants to sue Devon and Hilary.
After their meeting, Victor approaches Devon and asks for the name of his source. He offers to withdraw the lawsuit if Devon will spill it. Hilary makes sure the whole conversation is caught on tape. She tells Victor that the information was provided anonymously.
Victor lashes out at Devon and insists the lawsuit is happening. He meets back up with Michael and lets him know that the files are bogus. Victor notes that his hands are clean.
Meanwhile, Hilary is grateful that Devon is still in her corner. Hilary considers taking a gamble by airing an edited version of Devon's encounter with Victor. Devon advises against it. They determine that they need to learn the identity of the source and confirm that the files are the real deal.
At Top of the Tower, Kevin (Greg Rikaart) and Chloe (Elizabeth Hendrickson) enjoy their date. However, Chloe is a little concerned about Chelsea (Melissa Claire Egan). She seems depressed and distant. Kevin offers encouragement and they leave for the penthouse.
Chloe wonders if Kevin wants a drink, but he turns it down. Kevin doesn't want to move too fast, but he quickly changes his mind. They go upstairs and make out as they head toward the bed.
Across town, Dylan (Steve Burton) returns home and catches up with Nick (Joshua Morrow). He questions why Sharon (Sharon Case) told Nick about Patty (Stacy Haiduk) being the mystery caller instead of her husband. Nick brushes it off as Mariah (Camryn Grimes) and Sharon (Sharon Case) come in.
Nick says goodbye to Sully and remembers when he told Christian to fight in the hospital. Once Nick is gone, Sharon takes Sully to bed. Dylan asks Mariah why she visited Patty and she gives him the excuse she gave Paul (Doug Davidson). Mariah adds that Patty needs to be transferred elsewhere.
Sharon comes downstairs and Dylan starts grilling her. He tries to put together this puzzle of Patty's obsession and the strange painting. Sharon snaps that they'll never understand Patty. She has a severe mental illness. Sharon tries to change the subject, but her phone begins to ring.
Other "Young and the Restless" spoilers say Nick will confide in Chelsea. At Chelsea's studio, Nick mentions how Sully triggered a Christian memory earlier. He confesses that he doesn't feel pain when he's with Sully. The tot reminds him of his own. Nick worries that Sharon has a secret. He can see it in her eyes…
The big reveal is coming up and it's sure to cause some explosive drama. Y&R rumors hint that all of Genoa City will feel the impact. Stick with the CBS soap to see everyone's reaction to the stunning news.
So Y&R fans, what do you think about these "Young and the Restless" spoilers? Voice your opinion in the comments below and don't forget to check Soap Opera Spy often for the latest "Young and the Restless" spoilers, rumors, updates and news.
Share your thoughts in the Comments section below, on our Facebook Page,  join our Facebook Group or Head over to our Discussion Board to Talk Soaps Daily!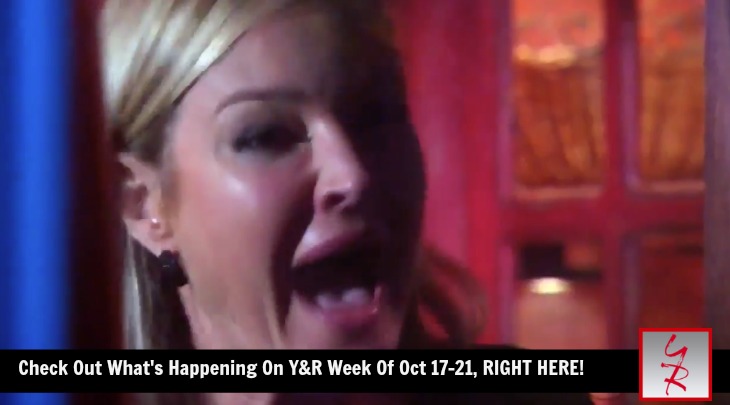 Take A Minute to Try Our Fun Y&R Puzzle!
Great Y&R Products!