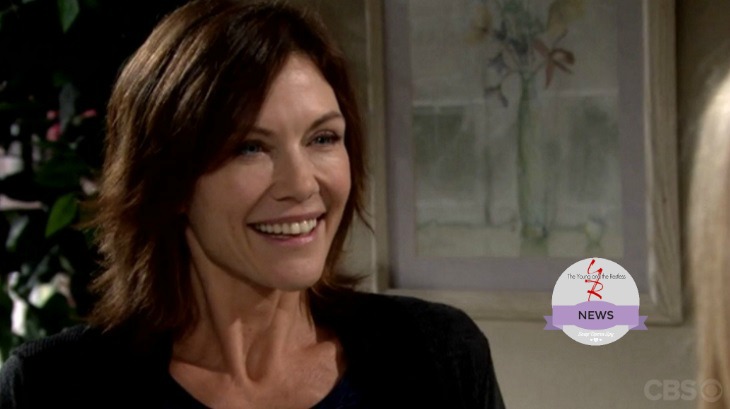 'The Young And The Restless' spoilers tease that Stacy Haiduk is returning to the CBS soap opera as Patty Williams, and will be filming new scenes this week.  Patty made her exit earlier this year after it was revealed that she had murdered Dr. Anderson (Elizabeth Bogush).  Patty's brother Paul Williams had no choice but to ship his unstable sister off to Fairview after the truth came out – although no one seemed to upset with Patty for taking out the scheming doc, and we can all agree that Genoa City has been a much happier place without Anderson there wreaking havoc.
Related: "Y&R" Casting Two Roles – Travis & Meredith
According to 'The Young And The Restless' spoilers, we haven't seen the last of Patty, and the actress will be back on the soap's canvas.  Haiduk took to Facebook and shared this message with fans over the weekend, "Feeling sooooo much better!!!!! Thank you all for sending me get well messages, it worked!!!! YEAH!!!! I can have my coffee now!!! Well I will be heading back to Y&R this week to shoot a couple more episodes. Have a marvelous week everyone and a Happy Sunday!!! Much Love & Light!! xoxoxox"
When Patty Williams left 'Y&R,' she took Dr. Anderson's baby-swap secret with her.  Patty had figured out that Dr. Anderson had switched Christian and Sully – and that Sharon Newman (Sharon Case) was never actually pregnant.  'The Young And The Restless' spoilers have already confirmed that Sully's true identity will be revealed this Spring, since Patty Williams is returning, it seems logical to assume that she will be the one doing the revealing.  After all, she and Dr. Anderson are the only ones who know the truth – and Dr. Anderson won't be doing any talking.
Related: Nikki Penniless After Victor Betrayal – What's Next for the Former Stripper?
So 'Y&R' fans, are you excited about Stacy Haiduk's return?  Who do you think she will spill the baby-swapping secret to?  How will Sharon and Dylan (Steve Burton) react when they learn that Sully is not theirs?  Share your thoughts in the comments below!
Share your thoughts in the Comments section below, on our Facebook Page, or join our Facebook Group for Discussion.