'The Bold and the Beautiful' Weekly Spoilers October 17 – 21: Steffy Leaves Wyatt, Reunites With Liam – Quinn And Ridge Go To War
'The Bold and the Beautiful' (B&B) spoilers for the week of Monday, October 17 to Friday, October 21 reveal that Steffy Forrester (Jacqueline MacInnes Wood) has stayed true to her word, and chose to end her marriage with Wyatt Spencer (Darin Brooks), when he decided he couldn't keep the truth from his mother, Quinn Fuller Forrester (Rena Sofer) about Eric Forrester's (John McCook) decision to make her his Power of Attorney instead of his son, Ridge (Thorsten Kaye).
Ridge has been fighting Quinn tooth and nail since he discovered she was dating his father. He has gone so far as to lie about the Power of Attorney to get rid of her. He fired her, removed all her belongings from the Forrester mansion, and even got a restraining order for her to stay away from Ridge and his entire family, especially his father.
B&B's Quinn has tried repeatedly to show Eric's family that she truly loves him and she is a changed woman. This week, she will be challenged again by Ridge, who shows up to the mansion. Quinn offers peace between them and asks him if they can get along. Ridge is persistent on forcing Quinn to pack up and take her "gold digging" ways and leave.
Sources also show Steffy ran straight back to her ex, Liam Spencer (Scott Clifton), without a second thought, just as her husband suspected she would. Steffy claims that she is very worried with Quinn in control, and insists Quinn is the reason she is divorcing Wyatt. Steffy should be more concerned about the damage the lie she told, along with Carter Walton (Lawrence Saint-Victor) and her father, in order to keep Forrester Creations, and all Forrester assets.
There truly isn't anything worse than a woman scorned. With Eric slowly recovering, he will request that Quinn and Wyatt take over for him at Forrester Creations while he recuperates; a request that shocks the entire Forrester family, especially to Ridge who has been aggressively pushing his father to change his mind about Quinn and the Power of Attorney.
Be sure to tune into CBS' The Bold and the Beautiful this week to catch up on all these stories and more. Check Soap Opera Spy often for updates, news, rumors and spoilers!
Share your thoughts in the Comments section below, on our Facebook Page,  join our Facebook Group or Head over to our Discussion Board to Talk Soaps Daily!
NEXT WEEK: Will one brother's loss be the other brother's gain? pic.twitter.com/ocCVQtGGgo

— Bold & The Beautiful (@BandB_CBS) October 14, 2016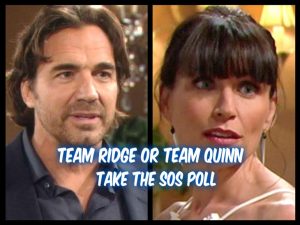 Have Some Fun With This Puzzle! Did you Love Quinn's Dress?

GREAT Bold & Beautiful PRODUCTS!