'General Hospital' Spoilers: Ava Receives A Chilling Message – Who Is Gunning For The Mobstress?
'General Hospital' spoilers tease that Ava (Maura West) receives a chilling message in the coming week. But, what could this message be? There is no hint what type of communication but it will definitely be enough to give Ava reason to fear.
In the most recent episode of General Hospital, we saw Ava getting caught by Nelle (Chloe Lanier) who is presently taking care of Avery, Sonny and Ava's daughter. Nelle specifically asked Ava what she was doing. Ava very artfully dodged the question and was able to sneak Morgan's medication that she had originally tampered with back into her purse before Nelle or Sonny (Maurice Benard) figured out what she was really doing there.
Viewers then watched as Ava threw the bottle of pills away and they appeared to be discarded, but not so fast Ava! We then saw a gloved hand reach into the trash and grab the pill bottle. This will not be good for Ava now, her fingerprints are all over Morgan's medication, it can now be verified that she meddled with his meds or stole them. Either way, the person who took the medication out of that garbage can now has leverage against Ava and you can bet, whoever it is will use this to their benefit. But, who could it be?
Looking back, we know Ava disclosed to Scotty Baldwin (Kin Shriner) that she tampered with Morgan's medication. That was not smart! If Scotty is the one who has the medication, could he use this to blackmail Ava and if so why would he do it, and to what gain? Let's look at another possibility. Anna is another person at the top of that suspect list.
We know as of late, Anna (Finola Hughes), is terribly distraught over Julian (William DeVry) being let go and the fact that she blames herself for Morgan's death. Anna could be taking matters into her own hands and wants payback. If Anna was to trail Ava and find something implicating, would she use this to her advantage to lure this over Julian to make him squirm? Ava certainly has ticked off a lot of PC residents! Who will Ava turn to when Karma comes back upon her?  Stay tuned!
Share your thoughts in the Comments section below, on our Facebook Page,  join our Facebook Group or Head over to our Discussion Board to Talk Soaps Daily!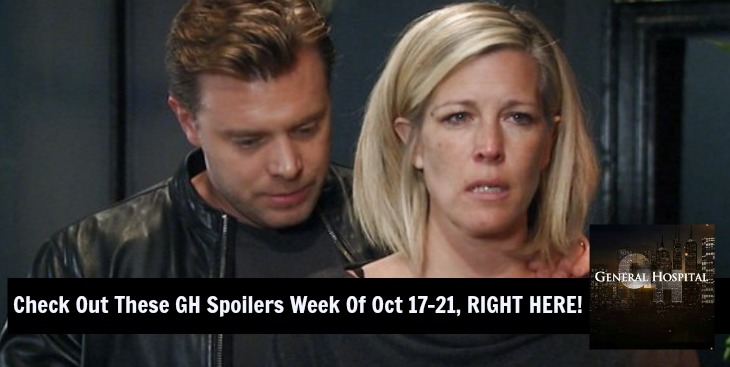 Check Out This Fun General Hospital Halloween Puzzle!
GREAT GH PRODUCTS!