'General Hospital' POLL: Who Do You Want Curtis With? VOTE!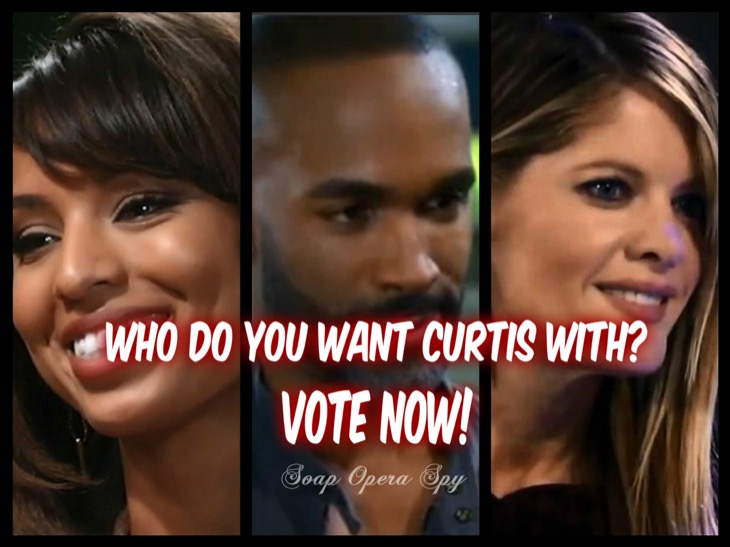 Take this General Hospital (GH) POLL, and let us know who you think is better for Curtis Ashford (Donnell Turner)? Do you prefer Nina Reeves (Michelle Stafford) or Valerie Spencer (Brytni Sarpy)?
When Curtis Ashford first arrive on General Hospital, he was perceived to be this bad boy from Police Commissioner, Jordan Ashford's (Vinessa Antoine) past. Remember when Jordan was out on one of her first dates with Dr. Andre Maddox (Anthony Montgomery)? She felt she needed to warn Cadet (at the time) Valerie Spencer about Curtis' old days, including the fact that he was a drug addict.
At the time, we were not sure of Jordan was jealous, or just trying to drive Curtis, and their joint past out of town. Curtis quickly proved to fans and citizens of General Hospital's Port Charles, that he no longer was a bad guy, and in fact, he had become a Private Investigator with no intention of leaving town, no matter what Jordan put him through.
GH's Curtis and Valerie have been a couple for a while now, but they seem kind of boring. Valerie has graduated and is now a police officer. She and Curtis seem to butt heads on a lot of things because her work contradicts his. Valerie may be more stable mentally, but she is more independent and it seems that Curtis is the type who needs a woman who needs him, who depends on him, not just sleep with him.
Curtis needs to keep in mind that Valerie is a cheater. When she decided to sleep with her cousin, Lulu's (Emme Rylan) husband, General Hospital's PCPD Detective Dante Falconeri (Dominic Zamprogna). She crossed a line no person should cross. How long before he begins to suspect something and ends up having to use his PI skills to catch her in bed with someone new?
GH's Curtis is a different kind of man with Nina. His interactions with her have been mostly professional, but who can deny the chemistry between these two? Nina may be a handful, but maybe that is what Curtis needs to keep his life interesting. Nina has never been a cheater, and she is very naïve when it comes to love and relationships. Curtis trying to help her find a baby is one of the best things he could ever do for her. He is honest and open with her, and she can take it.
General Hospital's Nina may be mentally unstable at times and will need a strong man to help her through it. Curtis seems to be that man. Nina is the kind of woman who loves fully and would do whatever it takes to keep her man happy, can Valerie say the same? Who do you think Curtis should be with, Nina or Valerie?
Be sure to tune into ABC's General Hospital, and check Soap Opera Spy often for updates, news, rumors, and spoilers!!
Share your thoughts in the Comments section below, on our Facebook Page,  join our Facebook Group or Head over to our Discussion Board to Talk Soaps Daily!
GREAT GH PRODUCTS!