B&B Spoilers: Carter Heartbroken, Katie And Bill's Reunion Inevitable?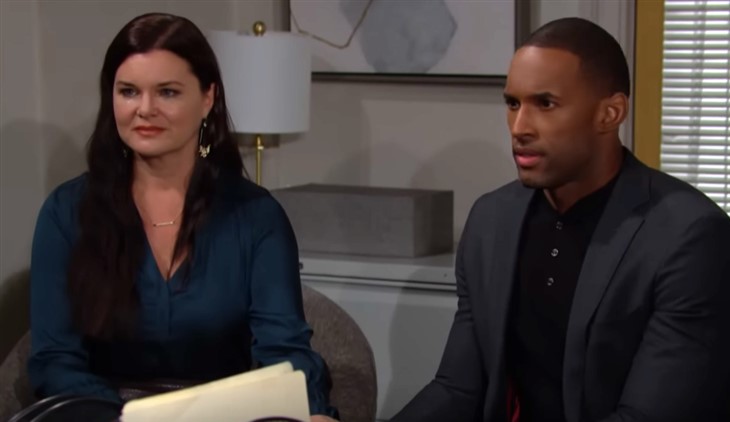 The Bold and the Beautiful spoilers reveal that Katie Logan (Heather Tom) isn't giving up on saving Bill Spencer (Don Diamont) from Sheila Carter (Kimberlin Brown). Katie will come up with a bold plan to rescue Bill and get rid of Sheila. However, it could lead to "Batie" reuniting, which means Carter Walton (Lawrence Saint-Victor) will be left with a broken heart once again.
The Bold And The Beautiful Spoilers – Bill Spencer's Despair
B&B spoilers reveal that Bill has made a shocking decision after being rejected by both Katie and Brooke Logan (Katherine Kelly Lang). Bill was hailed a hero when he had Sheila arrested. However, then Bill suddenly helped Sheila escape her criminal charges.
Now a free woman, Bill is continuing to make everyone's heads spin. Bill and Sheila are actually in a romantic relationship, which Diamont told Soap Opera Digest is a result of the character's despair.
B&B Spoilers – Sheila Carter's Scheme
Right now, nobody really knows what Sheila is up to regarding Bill. Sheila claims that it's true love. However, Bill was willing to sacrifice his own family and friends for Sheila. Something is definitely not right with this situation.
During the week of January 23, The Bold and the Beautiful spoilers show Sheila will visit the new owner of Il Giardino restaurant. That man just happens to be Deacon Sharpe (Sean Kanan). It is teased that Deacon will demand the truth from Sheila regarding her situation with Bill. However, Sheila isn't going to risk Deacon exposing her secret. Plus, some fans think that Deacon was only able to buy the restaurant because of Sheila's money. So, that could be something that Sheila uses to keep Deacon from talking.
The Bold And The Beautiful Spoilers – Katie Logan's Determination
The Bold and the Beautiful spoilers reveal that in the upcoming week, Katie will decide to take extreme measures regarding Bill and Sheila. Despite Katie's failure to reason with Bill, Katie isn't going to give up.
Katie hasn't had many storylines lately. So, it will be interesting to see what Katie does to get Bill to turn on Sheila. Whatever Katie does, Sheila doesn't like it. It is confirmed that Sheila threatens Katie.
B&B Spoilers – Carter Walton Heartbroken?
It seems that writers are using Sheila to reunite Bill and Katie. After all, Katie is in a new romance with Carter. However, her determination to save Bill could make her realize that she still loves him. So, where does that leave Carter?
What do you think Katie is going to do to save Bill from Sheila? Will it make Katie realize that she never stopped loving Bill? When Carter gets his heart broken yet again, which woman will he get paired up with next? Share your thoughts and remember to keep watching the CBS soap to find out what happens next.
Be sure to catch up on everything happening with B&B right now. Come back often for The Bold and the Beautiful spoilers, news, and updates.