Sister Wives: Has Meri Brown Addressed Allegations Of Child Abuse?
Sister Wives fans heard some disturbing allegations about Meri Brown being abusive with the kids. They came from Christine Brown's adult kids: Gwendlyn and Paedon. Mind you, in the past, Janelle's daughter, Maddie brown Brush seemed to suggest that none of the kids liked her. While the tabloids make a lot of noise about the allegations, has Meri responded? Read on to find out.
Sister Wives – Allegations Of Abuse By Meri Brown
When Paedon Brown opened up in his interview with Blogger, John Yates, he claimed that he felt reluctant to say too much. After all, a lot of his family members rely on the TLC show for income. However, he then talked about Meri and alleged that her abuse went "beyond verbal." Well, some critics thought the allegations might affect the future of the show. Anyway, fans waited to see if Kody's former first wife would react.
Sister Wives fans later heard that Gwendlyn Brown confirmed that Meri could be very strict. However, she also claimed that she only saw Meri physically touch one person on one occasion: Mykelti. So, some viewers felt that whether it was once or more than that, it was very bad. Later, Gwen called out Paedon and told fans not to trust anything that he says. Still, did Meri react in self-defense? Read on and let's find out.
Sister Wives – Fans Watch Closely On Meri Brown's Instagram
Instagram, Facebook, Reddit, and other social media platforms see folks debating Meri Brown and the abuse allegations. Meanwhile, others look back at old seasons of the show for signs of abuse. Sometimes, others ask her directly for comments. In the meantime, the TLC star just pushes her retreats in Parowan. As usual, she seems to be all happy and positive.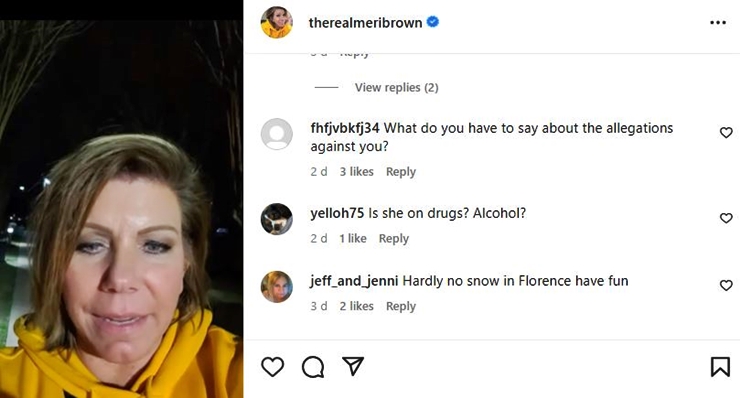 On Friday, the Sister Wives star did her usual live on Instagram and talked about a range of things. Apparently, she's in South Carolina doing what she loves the most: traveling. In the comments, some folks directed their questions about abuse. One of them asked, "What do you have to say about the allegations against you?" However, like others, the question went unanswered.
Sister Wives – No Big Outlets Report On A Response
Sister Wives fans have not seen the bigger tabloids report on any denial or admission by Meri Brown. Possibly, she simply can't. She is no fool, and at this stage, it's all speculation and unproven allegations. Perhaps she keeps quiet just in case the allegations ever come to anything. No doubt, if that happens she will have a legal team on hand to represent her.
Be sure and stay up to speed on this and all Brown Family stories. Return here often for more Sister Wives spoilers, news, and updates.