Y&R Spoilers: Diane Fights Back, Tells Talia About Murder Cover-Up?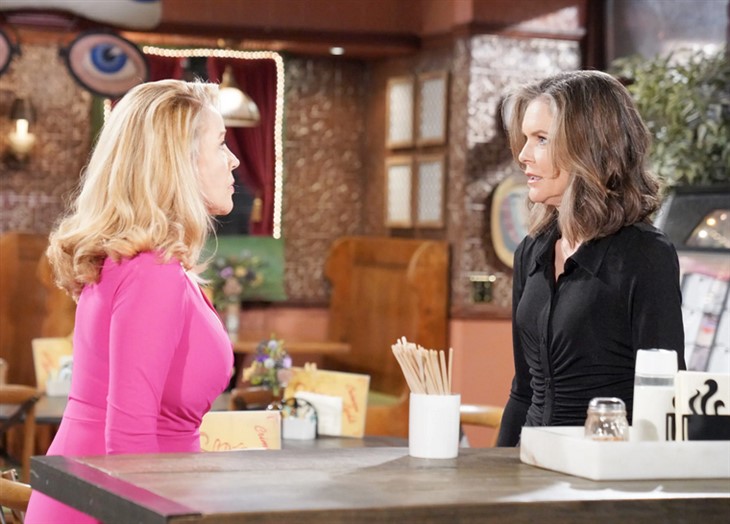 The Young and the Restless spoilers reveal that Nikki Newman (Melody Thomas Scott) alerts an investigative reporter about Diane Jenkins (Susan Walters). While Talia Morgan (Natalie Morales) does look into Diane's sketchy history, there could be a twist. It is teased that Nikki's actions could boomerang, leading to a murder cover-up being exposed.
The Young And The Restless Spoilers – Nikki Newman's Strategy
Y&R spoilers reveal that Nikki introduces Phyllis Summers (Michelle Stafford) to Talia. It is confirmed that Talia is an investigative journalist who works for a magazine. When Talia heard about Diane's miraculous resurrection, she became curious.
Talia is convinced that there is a big story bubbling under the surface. Talia plans on finding out what Diane was up to in Los Angeles.
Y&R Spoilers – Talia Morgan Investigates
Talia will probably begin by looking into the name Diane was using when she revealed herself to be alive: Taylor Jensen. Talia might cross-reference employment, addresses and even phone numbers. Talia could question Allie Nguyen (Kelsey Wang) and might even confront Diane herself.
The Young And The Restless Spoilers – Diane Jenkins' Damage Control
The Young and the Restless spoilers reveal that Diane wouldn't want her secrets coming out this way. Diane is crafty and manipulative. So, Diane might try to redirect Talia's investigation. Diane could bring up that the Newman family has their own scandal, one much bigger than her missing years in Los Angeles.
Diane might mention that Ashland Locke's (formerly played by Robert Newman) death investigation still hasn't been closed. Diane could comment about how strange it's taking so long to close a simple car accident case. Diane might even bring up how vicious the war was between Ashland and the Newman family, including Victor Newman's (Eric Braeden) threats.
Y&R Spoilers – Murder Cover-Up Exposed?
Speaking to Soap Opera Digest, co-executive producer and head writer Josh Griffith teased what fans can expect.
"Both women [Nikki and Phyllis] are encouraged that a journalist of Talia's caliber is interested in doing an expose on Diane. Nikki and Phyllis will soon find themselves in the middle of a shocking scandal. Someone learns of Talia's investigation – and interferes with it."
Is it possible that this shocking scandal might have less to do with Diane's past and more with Victor's murder cover-up? Perhaps Talia will end up exposing both of them, which could put the entire Newman family as well as Diane on trial…  both literally and figurately.
What do you think is going to happen when Talia investigates Diane? Is Diane the person who interferes with the reporter's mission? Could Diane tip off Talia that the Newman family has their own explosive secrets? Share your thoughts and remember to keep watching the CBS soap to see what happens next.
Be sure to catch up on everything happening with Y&R right now. Come back here often for The Young and the Restless spoilers, news, and updates.