The Young And The Restless Spoilers: Could 'Teriah' Have Tried To Adopt Lying Audra's Living Baby?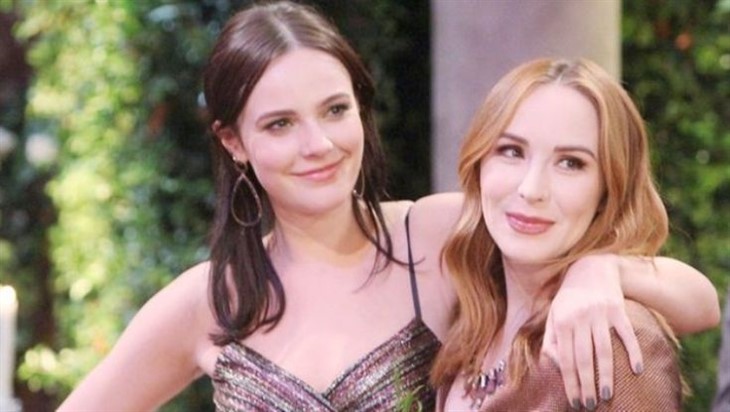 The Young and The Restless spoilers and updates tease that Mariah Copeland (Camryn Grimes) and Tessa Porter (Cait Fairbanks) might have tried to adopt a baby claimed miscarried. Lying Audra Charles (Zuleyka Silver) may not have miscarried Noah Newman's (Rory Gibson) baby after all, and gave the baby to her cousin.
The Young And The Restless Spoilers – An Attack For Revenge
Audra showed up right around the time that Noah opened the Glam Club, and could have heard Mariah and Tessa talk about adoption. Audra would have quickly picked up on Mariah being Noah's older half-sister if she didn't already know, as well as Sharon Rosales (Sharon Case) being their birth mother. The timing seems suspect the way it is, but if Audra, who seems to still be obsessed with Noah, lied about her miscarriage, their baby could have been the same one.
Christine Williams (Laura Lee Bell) never said she had actually met with the pregnant woman who went by "Joss". She was trying to arrange a meeting between the mother, who supposedly wanted to get to know prospective adoptive parents, and was working with someone else she knew.
Y & R Spoilers – The Mother Decided To Give The Baby To Her Cousin
The story had been that this "Joss" had decided to give the baby to her cousin after finding out all about Mariah and Tess, and supposedly had not given birth yet. But why would she go to all the trouble of finding out all about the prospective adoptive parents when she initially approved of them to change her mind?
Christine's role was to represent Mariah and Tessa in the adoption if it had gone through and the women had corresponded only through email. Lying Audra could have easily manipulated all of these scenarios just to find out more about Noah's half-sibling, and maybe even his former love Tessa, and indirectly, Sharon. Audra really seems like she's an obsessive psycho, so she just might want to make trouble for Noah and his family.
The Young And The Restless Spoilers – She's Not Done
And Audra isn't done yet – she's determined to get Noah back and working to split up his relationship with Allie Nguyen (Kelsey Wang). She'll catch him in a vulnerable position during the week of December 5 and she'll seduce him – perhaps she's trying to get pregnant again, but more likely to hurt Allie. Audra gets what Audra wants and she'll do anything to do so, it won't matter who gets hurt as long as she gets him back.
Y&R spoilers tease that Noah's whole family plus Allie's will be in an uproar, along with Mariah and Tessa, because Audra will want to pull everyone into her web. She wants revenge for losing Noah and what better way than to manipulate him back to herself, perhaps by claiming another pregnancy?
Be sure to catch up on everything happening with Y & R right now. Come back here often for The Young and The Restless spoilers, news, and updates.