GH Spoilers: Pregnant Esme Returns, Who's The Baby Daddy?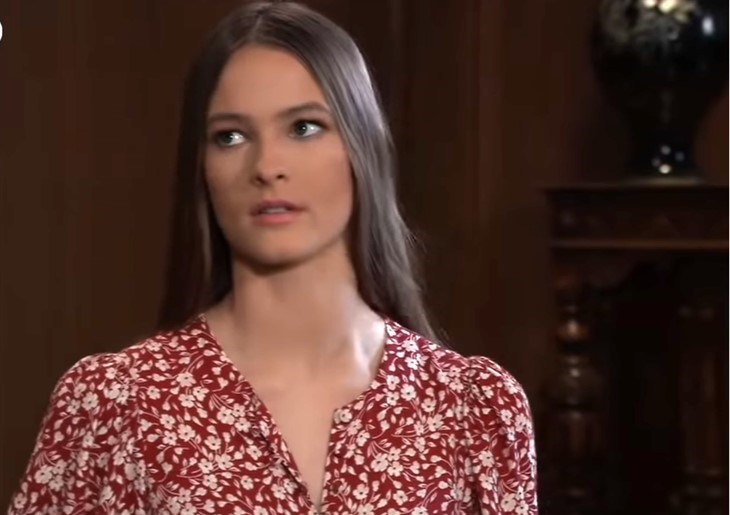 General Hospital spoilers indicate that Esme Prince (Avery Kristen Pohl) will disappear for a while. However, Esme will be back. It's unclear exactly what happens to Esme. Rumors say she will return with a baby bump. Who is the baby daddy?
General Hospital Spoilers – Esme Prince Had A Plan
General Hospital spoilers reveal that Esme slept with Nikolas Cassadine (Marcus Coloma). Esme, then, proceeded to rub that face in Ava Jerome's (Maura West) face. However, sleeping with Ava's husband wasn't nearly enough. Esme had to continue to push Ava which caused her to fly off a parapet in the end.
Of course, Esme will survive to come back to wreak more havoc with her dear ole daddy, Ryan Chamberlain (Jon Lindstrom). However, Ryan may not be too happy about this baby. Who does the child belong to? With Esme, the identity of the father could certainly be up in the air.
GH Spoilers – Nikolas Cassadine's Child?
Nikolas is the likely baby daddy as far as fans know because he is the only person Esme has slept with on screen. Of course, Esme slept with Nikolas to help Ryan get to Ava. However, being pregnant with a Cassadine child would be a huge plus. After all, the Cassadine money from this child would set Esme up for life.
Of course, Spencer Cassadine's (Nicholas Chavez) child would do the same. This also leaves open the possibility of Esme finding someone to get her pregnant and pass it off as a Cassadine as well. After all, Esme had Ryan in the background telling her what to do. Has Esme ensured that she has a Cassadine baby?
GH Spoilers – How Long Will Esme Prince Be Gone?
So far there has been no indication of exactly when Esme will return. However, it will be before she gives birth. Esme and Nikolas were together in June. Soap pregnancies seldom last nine months. Esme will likely be back around Christmas if not before. Just in time for Ava and Nikolas to work out their differences and reconcile.
Spencer could possibly be with Trina Robinson (Tabyana Ali) by this time as well. Esme could potentially ruin both relationships by not revealing the identity of the father. Another sticking point could be if Nikolas fails to tell Spencer about his and Esme's affair. Rest assured that Esme will appear when she can do the most damage.
How will Ava and Spencer react to Esme's pregnancy? After all, Spencer's ex-girlfriend could soon give birth to his half-brother. No doubt Esme will shake up the Cassadine family when she returns.
Be sure to catch up on everything happening with GH right now. Come back here often for General Hospital spoilers, news, and updates.