GH Spoilers: Nikolas Is Tempted By Esme As She Weaves Her Web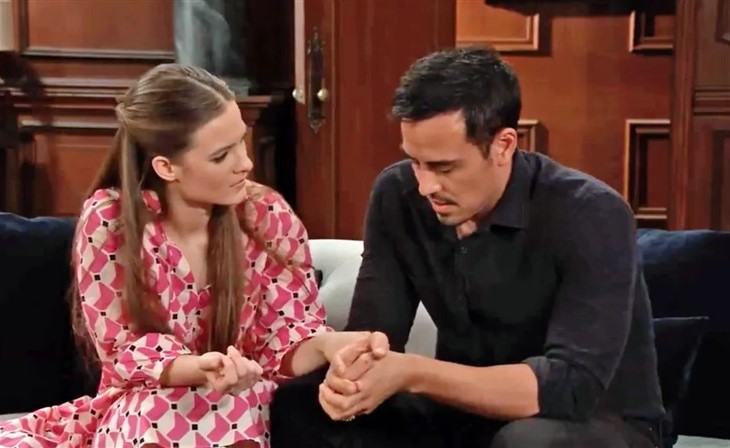 General Hospital (GH) spoilers and updates tease that Nikolas Cassadine (Marcus Coloma) will be tempted by Esme Prince (Avery Kristen Pohl) as she continues to weave her web! It won't be long before Esme has Nikolas right where she wants him in an upcoming episode of GH!
General Hospital Spoilers – Esme Prince Is Not To Deviate From Her Mission
Esme was reminded of her mission and strongly, by her birth father Ryan Chamberlain (Jon Lindstrom) the last time she saw him in Spring Ridge. Esme is to break Nikolas and Ava Cassadine (Maura West) up by seducing Nikolas, and they were some pretty clear instructions! It seems like he cares a lot more about what he wants than what his daughter wants, and seducing his father won't keep Spencer Cassadine (Nicholas Chavez)!
It seems to be a strange love-hate relationship between father and daughter, and Esme holds a lot of anger inside! But she knows that there's a possibility he could turn on her if she's not careful – look what happened to her grandmother Melanie Chamberlain (Joy Claussen)!
GH Spoilers – Esme Prince Is Planning Her Plot And Plotting Her Plan
Every time Esme sympathizes with Nikolas and with every comforting touch she manages to give, she's planning her plot and plotting her plan! Her goal is to get Nikolas not only to trust her but to confide in her, to come to her for support, and most of all to talk to her about his problems with Ava! The more she knows, the more she can tailor her agenda to make her bed and herself absolutely irresistible to the older man! Or, she may be plotting to worm her way into his bed – or maybe even Ava's since Ava walking in on them in flagrante delicto would have maximum effect!
General Hospital Spoilers – Said The Spider To The Fly, Come Into My Parlor
Esme expertly weaves her web, like a spider seducing a silly fly to its death – Nikolas being the fly, and her being the spider, playing strongly on his weaknesses! Unlike her father Ryan might do if she were him, she's not trying to kill Nikolas, only his marriage and his relationship to Ava. Ryan wants Nikolas out of the way so he can have Ava, but he isn't considering that Ava might not want him-she actually made that pretty clear!
Ava would just as soon take Ryan and fling him off the Wyndemere Castle parapet if she could get away with it! She is to the point of feeling the same about Esme as well!
GH Spoilers – Esme Prince Is Making Herself Tempting To Nikolas Cassadine
Esme is making herself tempting to Nikolas as she continues to weave her web of manipulation, knowing that the best way to a man's bed is through seduction! Ava had made Spencer a deal to let him have a generous allowance from his trust fund so he and Esme could move out of the castle. Spencer told Esme about the deal but Esme would rather stay at Wyndemere – however, she could slip into the castle while Spencer and Ava are at work if need be. She knows that Nikolas really doesn't want her to leave – so she goes to visit when Ava and Spencer aren't home! She pretends to cry on his shoulder and as he embraces her she starts undressing him; and herself – she's making herself impossible for Nikolas to resist!
Be sure to catch up on everything happening with GH right now. Come back here often for General Hospital spoilers, news, and updates.
Source: https://thedaytimedish.jcink.net/index.php?showtopic=2982&skinid=null