GH Spoilers: Drama In The Courtroom, Major Fireworks!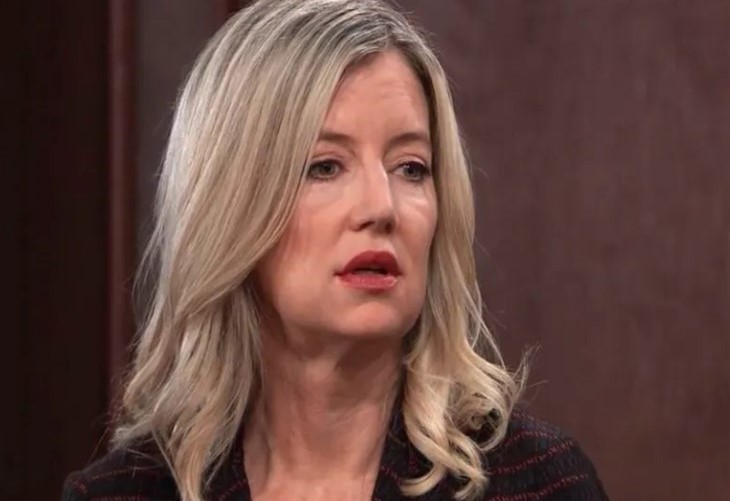 General Hospital (GH) spoilers and updates tease there will be drama in the courtroom as Nina Reeves (Cynthia Watros) fights for visitation of Wiley Corinthos (Viron Weaver)!  The courtroom challenge begins in upcoming episodes of GH!
General Hospital Spoilers – Fireworks In The Courtroom
Viewers can expect some major fireworks in the courtroom during the visitation challenge, especially between Nina and Michael Corinthos (Chad Duell), which was to be expected. Viewers will recall that Michael previously had sued Nina in Pennsylvania for identity fraud over Sonny Corinthos, (Maurice Benard) as if she'd stolen his identity when he had amnesia! And he'd done that by bribing a district attorney who was running for Pennsylvania state attorney general, so Michael is guilty of bribing a politician.
Michael is definitely no saint and Nina knows it – and she's going to pull out every crime he's ever done and bring it up in court! Michael hasn't exhausted his own supply of dirty tricks and dirty history on Nina, and if necessary, on Sonny as well to bring up in court!
GH Spoilers – Nina Reeves Is Reluctant To Allow Sonny Corinthos To Testify
Nina is very reluctant to allow Sonny to testify on her behalf, even though he has assured her he would if needed. She didn't even want to have to take this visitation situation to court, she hoped that Michael and Willow Tait (Katelyn MacMullen) would be reasonable. But even Willow is siding with Michael and his family – and he mirrors the hatred of his mother towards Nina's late daughter and herself! Michael has already rejected Sonny – and that is something Nina is tempted to blame herself for it but Sonny disagrees, and here he is in the courthouse. She realizes she cannot stop Sonny from doing something he wants to, or force him to do anything he doesn't.
General Hospital Spoilers – Sonny Corinthos Takes The Stand
Nina didn't want him to but Attorney Scott Baldwin (Kin Shriner) had previously urged Nina to let Sonny take the stand, being possibly one of Nina's only allies. His older son Dante Falconeri (Dominic Zamprogna) had tried to talk him out of taking the stand for Nina as well, but Michael insists on burning that bridge, not Sonny!
Sonny insists on taking the stand for Nina, and so Scott calls him up to testify for Nina's character, having been motivated by his obvious love for her. Carly Corinthos (Laura Wright) has burned her bridges with Sonny too and that had been plain when he overheard her talking about hospital tests with Bobbie. He went over to talk to Carly and ask about her welfare and if she was okay and she basically blew him off, telling him he no longer had any right!
GH Spoilers – Carly Corinthos Is Also In The Courtroom
You can bet that Carly is also in the courtroom ready to fire some shots in behalf of her family, and she still hasn't told anyone Willow might be Nina's! She hasn't even told Bobbie what the tests were about that she was waiting on when she overheard her asking about them at GH! Carly is worried about what the tests might show, because she didn't know whether to believe Harmony Miller's (Inga Cadranel) "deathbed confession" about Willow being Nina's daughter – and Nelle's twin! Carly is hoping against hope that even if the DNA doesn't match between Willow and Wiley but then she gets a call while in court that the results are in. Carly doesn't want to ruin Willow's life telling her hated Nina and Nelle Benson (Chloe Lanier) are her flesh and blood!
Be sure to catch up on everything happening with GH right now. Come back here often for General Hospital spoilers, news, and updates.