GH Spoilers: Did Trina's Title 9 Really Come From The School?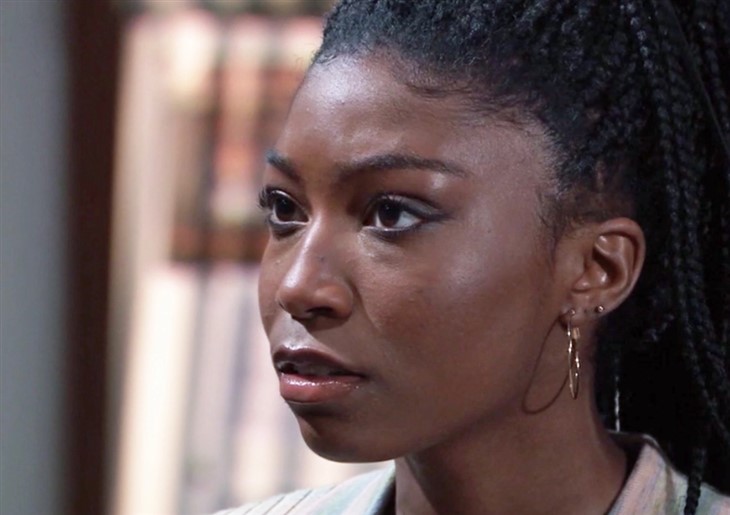 General Hospital (GH) spoilers and rumors tease that Trina Robinson's (Tabyana Ali) Title Nine warning, meaning her impending expulsion from Port Charles University may not have really come from the school! Esme Prince (Avery Kristen Pohl) revealed she also had a Title Nine warning and couldn't return to school – but why? Could Esme have forged Trina's warning?
General Hospital Spoilers – A Title Nine Warning Is Expulsion And A Ban From Campus
When Trina talked about the Title Nine, she explained it came down from the school board and it meant that because of unfavorable publicity she was being expelled and banned. That means she can no longer study for her degree or even set foot on the campus – she wouldn't be able to visit Josslyn Jacks (Eden McCoy) in her dorm. Of course, the unfavorable publicity she referred to is about the crimes she has been charged with which are pending her court date, and which unfortunately have been highly publicized.
Previous GH episodes revealed that Esme, too has a Title Nine banning her from campus and from pursuing her studies; but why would she, if she has no unfavorable publicity? The only unfavorable publicity would be from interviews given by Cameron Webber (William Lipton) and Joss, and they don't have Title Nines; although they accused Esme it wasn't in print!
GH Spoilers – Why Would Esme Prince Talk About Being On A Title Nine?
The big question here is why would Esme even talk about being on a title nine – for one thing, her internship at Spring Ridge is through the school! Esme definitely was enrolled in classes, at least one class, because she was in the classroom when the revenge porn she uploaded came on Port Charles University's servers! She was sitting in the same classroom as Joss and Cam were when their first time having sex came on screen in front of the whole class, Trina arriving later! She sat in class snickering at Joss and Cam's embarrassment and made a hasty exit, soon calling the Port Charles Police Department tip line to report Trina! Esme is definitely still interning at Spring Ridge because she recently helped an orderly get Ryan Chamberlain (Jon Lindstrom) into bed, in spite of Dr. Kevin Collins' (Jon Lindstrom) restrictions.
General Hospital Spoilers – How Does Esme Prince Know What A Title Nine Is?
Another question is how Esme knows what a Title 9 even is – it seems like a very strange coincidence that she would be on one just when Trina received one! Then there's that she also mentioned it right in front of those who care about Trina and would know that she had received a Title 9 report too! It all seems like way too much for it to be a coincidence, especially when the school so far has no grounds to expel Esme or ban her from campus!
Viewers know that Esme is threatened by Spencer's attraction to Trina and she wants to eliminate her competition for him, but Trina may not even be real competition. Esme saw that Officer Rory Cabrera (Michael Blake Kruse) and Trina are mutually attracted, as has a jealous Spencer!
GH Spoilers – Did Esme Prince Forge Trina Robinson's Title 9?
Could Esme have forged Trina's Title 9 report just to get further revenge on and make trouble for Trina, considering the hatred she feels for her? Chances are, she may have – but maybe not to directly harrass Trina, because the school would surely contact her if she was missing class! Esme may be going to all this trouble to upset Trina because she knows it will upset Spencer, and she's really trying to get back at him! After all, this started happening after Spencer withdrew his affections from Esme, and she caught him snooping in her room!
Be sure to catch up on everything happening with GH right now. Come back here often for General Hospital spoilers, news, and updates.