General Hospital Spoilers: Everything To Know About GH Jeff Webber (William R. Moses)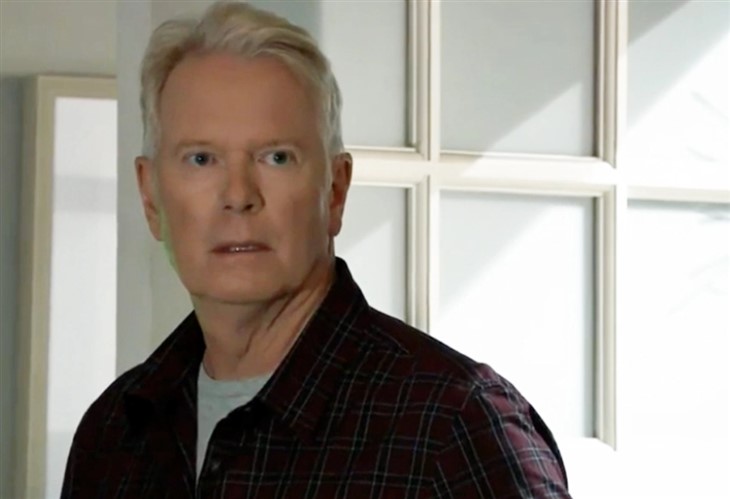 General Hospital spoilers and updates tease that there may be some newer viewers who might want to know more about Elizabeth Baldwin's (Rebecca Herbst) father, Jeff Webber (William R. Moses). Here's what you need to know.
General Hospital Spoilers – First Marriage, Birth Father, Family
Jeff first appeared, then played by Richard Dean Anderson, in 1976, coming to Port Charles and GH as a part of a program called Mr. and Mrs. Intern. He was drafted into the program with his first wife Monica Webber, now Monica Quartermaine (Leslie Charleson) by the man he later learned was his birth father. That was Dr. Steve Hardy (John Beradino); Jeff had a half-brother and a half-sister, Dr. Rick Webber (most recently Chris Robinson) and Terri Arnett (Bobbi Jordan).
Terri was the oldest, having raised Rick and Jeff after their parents died; Rick, who had previously been involved with Monica disappeared and was presumed dead. He later came to Port Charles alive, and he and Monica became re-involved, Monica cheating on Jeff with Rick.
GH Spoilers – Affairs And Fatherhood
Jeff was a player even back then, although it was Monica who cheated on him that led him to fall into an affair with Heather Grant (now Alley Mills). Heather became pregnant but never told Jeff after he refused to leave Monica, who of course left him for Rick. Jeff didn't find out about Steven Lars Webber, (Scott Reeves) his son with Heather until he'd been adopted by a couple who worked at General Hospital. It was only after Dr. Peter Taylor (Craig Huebing) died, his wife Nurse Diana Taylor (Brooke Bundy) was murdered and Heather overdosed on LSD meant for Diana. He took Steven Lars and moved away, meeting Carolyn Webber (Denise Crosby) the same year, with Sarah Webber (Sarah Laine) and Elizabeth born within a couple of years.
General Hospital Spoilers – From Then To Now
Jeff and Carolyn joined Doctors Without Borders, eventually going to Sarajevo to help in the war effort. Some of the missing years have been filled in just lately, with Sarah and Elizabeth going to the Mariana Islands with them, Steve apparently having left home already. Jeff would have at least two affairs, although he had one while still in Port Charles with a nurse named Anne Logan (Susan Pratt) while married to Heather.
While in the Mariana Islands he had an affair with Reiko Finn (Mele Ihara) and later Naomi Berlin (Gigi Bermingham) who gave birth to their daughter Hayden Barnes (Rebecca Budig). Jeff has been nothing if not a serial cheater during most of his life since his first marriage to Monica!
Be sure to catch up on everything happening with GH right now. Come back here often for General Hospital spoilers, news, and updates.