DOOL Spoilers: Jan Rubs Salt In Belle's Wound, Names Baby After Shawn?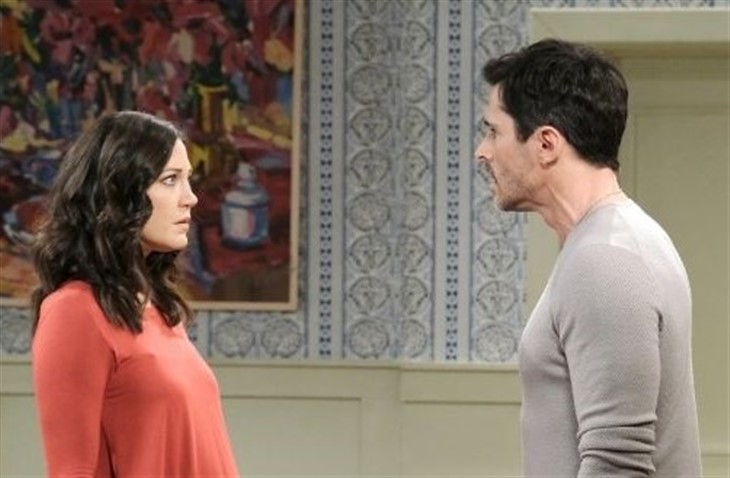 Days of Our Lives spoilers reveal that Jan Spears (Heather Lindell) delivered the baby, who was born prematurely. Jan and Shawn Brady (Brandon Beemer) discussed girl's baby names before the delivery. However, the baby is a boy, which means they need to decide on a name. Could Jan rub salt in Belle Brady's (Martha Madison) wound by naming her son after Shawn?
Days Of Our Lives Spoilers – Mentioning Hope Brady
DOOL spoilers reveal that when Jan was pregnant, she discussed baby names with Shawn. However, all of the names that Jan suggested were for girls. First, Jan suggested that they name the baby after Shawn's mother, Hope Brady (Kristian Alfonso). Shawn was surprised as he thought Jan would want to name the baby after her own mother. However, Jan didn't have a good relationship with her mom. Plus, her name was a "granny name."
In later episodes, Jan started calling the unborn baby "Angela." However, the baby turned out not to be a girl but a boy.
DOOL Spoilers – Jan Spears' Delivery
Jan went into premature labor and had to have an emergency C-section. Both Jan and the baby nearly lost their lives. Since the baby was born too early, he is most likely in the NICU. This experience seems to be bringing Shawn and Jan closer together. In fact, Shawn and Jan are caught kissing by Brady Black (Eric Martsolf) and Chloe Lane (Nadia Bjorlin).
Days Of Our Lives Spoilers – Rubbing Salt In Belle Brady's Wound
Days of Our Lives spoilers reveal that Shawn and Jan will need to give their son a name soon. They can't keep calling him "our baby" or "our son" forever. Since Jan mentioned naming the baby after Shawn's mom, she clearly wants everyone to be constantly reminded that this is Shawn's baby.
Obviously, Bo Brady (Peter Reckell) is already taken as that is what Ben Weston (Robert Scott Wilson) and Ciara Brady Weston (Victoria Konefal) named their baby. So, could Jan rub salt in Belle's wound by naming the baby Shawn Jr.? That way, every single time the baby was mentioned, it would remind Belle of Shawn's betrayal.
DOOL Spoilers – Surprise Outcome?
There is speculation that this baby story could have an unexpected outcome. Everyone expects Shawn and Belle to get back together eventually. However, Belle wouldn't be able to raise another woman's baby, especially Jan's.
Even though a paternity test showed Shawn was the father, there are still ways that could have been tampered with. Perhaps the premature baby will have a health issue that requires blood or something else from Shawn. It might be revealed that Shawn isn't the father of Jan's baby at all. That is the only way that fans can see "Shelle" getting back together. Tell us what you think of this theory and remember to keep watching the NBC soap to see what happens next.
Be sure to catch up on everything happening with DOOL right now. Come back often for Days of Our Lives spoilers, news, and updates.