DOOL Spoilers: Eli Shot, Lani Finds Bloody Body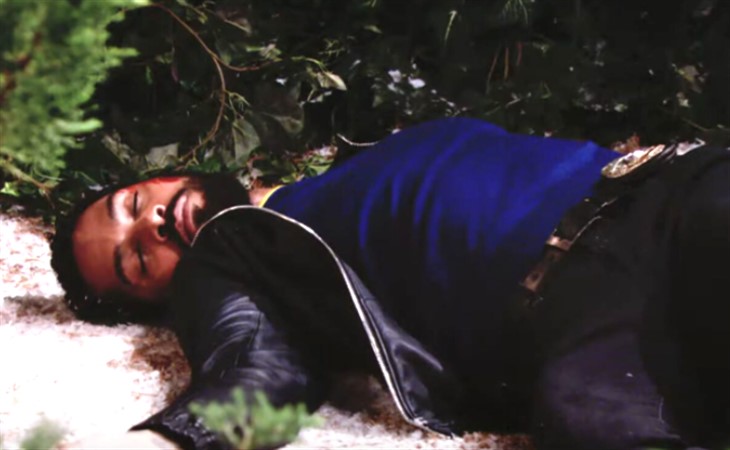 Days of Our Lives spoilers for the week of March 14 reveal that Eli Grant (Lamon Archey) is shot and left for dead. Making the situation even worse is that Lani Price-Grant (Sal Stowers) is one of the first people who come across Eli's lifeless body. Who is responsible and will they be punished? Will Eli survive the brutal attack or will fans be saying goodbye to the character?
Days Of Our Lives Spoilers – Donielle Artese's Debut
DOOL spoilers reveal that Eli and Paulina Price (Jackée Harry) join forces to find out the truth about TR Coates (William Christian). TR fed a story to Paulina and despite her initial disbelief, the real estate mogul is beginning to wonder if it could be true. After all of the years, it seems as if TR can still get inside Paulina's head.
Not wanting to make a mistake, Paulina gets help from Eli. Interestingly enough, Eli gets an unexpected visitor at the police station. That person is Beth (Donielle Artese), who identifies herself as one of TR's ex-girlfriends.
DOOL Spoilers – Confronting TR Coates
Beth must have quite the story to tell Eli. It is confirmed that Eli goes to confront TR after listening to what Beth has to say about the movie producer. Eli already warned TR but the police detective also doesn't realize the magnitude of evil he is facing. TR will do anything to get his way, even if that means murder.
During the week of March 14, Eli will get shot. The person that tries to permanently silence Eli must be TR.
Days Of Our Lives Spoilers – Lani Price-Grant's Horrifying Discovery
Days of Our Lives spoilers for the week of March 14 reveal that Lani and Shawn Brady (Brandon Beemer) stumble upon a brutally vicious crime. This must be Eli's body, but the detective isn't dead yet. It is confirmed that Eli goes through a medical emergency and is hospitalized. Eli might not even be able to tell anyone who shot him.
It leads to Eli's mother, Dr. Valerie Grant (Vanessa Williams) coming to Salem. However, Eli's condition quickly deteriorates. Lani and Valerie are devastated when Eli's condition suddenly takes a turn for the worse. This could be from the shooting or perhaps TR does something to make sure Eli never wakes up.
DOOL Spoilers – Is Lamon Archey Leaving?
There is no word on what happens to Eli. What is known is that Archey has been dropped from series regulars to recurring. Plus, a storyline like this won't be resolved immediately. It will likely be a few weeks or even several months before the truth comes out. While we don't expect Eli to die, it might be a while before the truth about TR comes out.
In order to keep his secret and get what he wants, could TR try to murder other Salemites? Could TR not just be a murderer, but a serial killer?
Be sure to catch up on everything happening with DOOL right now. Come back often for Days of Our Lives spoilers, news, and updates.