Days Of Our Lives Spoilers: Will Kristen Have Rolf Brainwash Brady's Love For Her Back?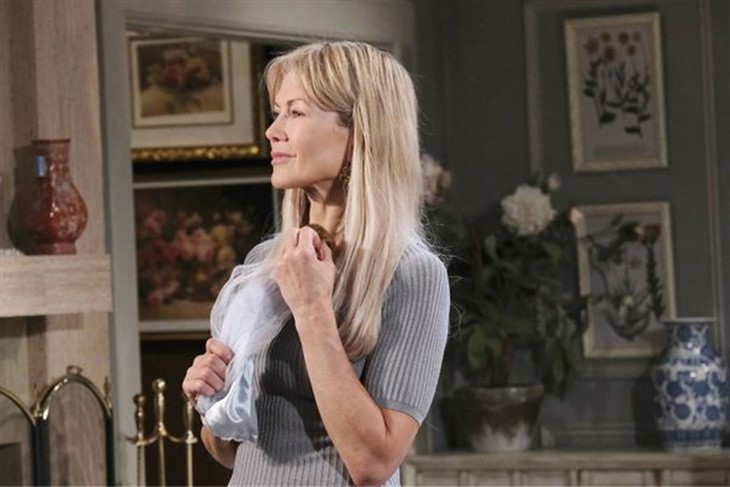 Days of Our Lives spoilers and rumors tease that if nothing else will make Brady Black (Eric Martsolf) fall in love with her again, she might resort to brainwashing! Dr. Wilhelm Rolf (Richard Wharton) successfully brainwashed Stefan DiMera (Brandon Barash) into forgetting Gabi Hernandez (Camila Banus) and remembering his love for Chloe Lane (Nadia Bjorlin) so why not Brady?
Days Of Our Lives Spoilers – Desperate Love Calls For Desperate Measures
Desperate love calls for desperate measures, and when the rare orchid turns up missing, her leverage over Brady will be gone. She'll be scrambling to solve the mystery but without their antitoxin boosters, Marlena Evans, (Deidre Hall) Kayla Johnson (Mary Beth Evans) and Kate Brady (Lauren Koslow) will die. Sure, she can assume that Brady will turn to her for love and support but he could just as easily turn on her and expose her blackmail.
With Marlena and the others dead, Brady won't have anything to lose by exposing Kristen and her blackmail. She'll have to move quickly to get Rolf's help, he told her that was the only orchid, but now she also needs him to brainwash Brady's love for her back.
DOOL Spoilers – It Worked So Well With Stefan DiMera
Rolf will likely be shocked that the rare orchid was stolen, because he entrusted Kristen with its protection, and she cannot figure out who would have known its location. She kept it in a secret cabinet in the DiMera mansion wine cellar, and had taken special pains to sneak in through the secret tunnel entrance to care for it. But there is nothing they can do about that, Rolf did not make extra serum because for it to be effective, it has to be freshly made from the live orchid. Kristen tells him there is something he can do in regards to brainwashing Brady to forget his past love for Chloe and remember his love for her. She reminds him how well it worked with her brother Stefan.
Days Of Our Lives Spoilers – Great Care Must Be Taken
Kristen tells Rolf great care must be taken to ensure no one sees Brady taken to the lab or released, and with the womens' families grieving it should be easy. The funerals are already over and Brady needed to get away for a little while, Kristen taking Rachel Black (Finlay Rose Slater) away as well from the terrible situation. Kristen hacks into the Basic Black computers to account for Brady taking time off and taking time away from the company. Then she books a plane for all three of them, with plans to take Rachel on a special vacation while Rolf programs Brady.
Be sure to catch up on everything happening with DOOL right now. Come back here often for Days Of Our Lives spoilers, news, and updates.