B&B Spoilers: Steffy Puzzled, Hope's Jolting Truth Bomb Fails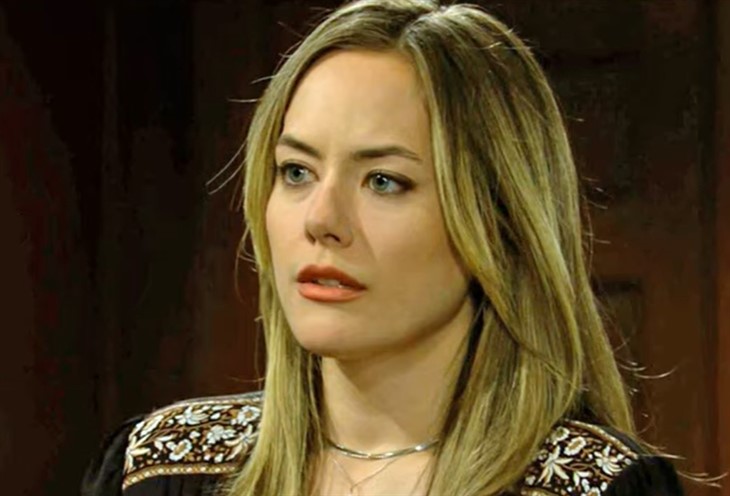 The Bold and the Beautiful spoilers reveal that Steffy Forrester Finnegan (Jacqueline MacInnes Wood) woke up from her coma. However, there are signs that Steffy will believe she's still married to Liam Spencer (Scott Clifton). Despite Taylor Hayes' (Krista Allen) warning, Hope Logan Spencer (Annika Noelle) tries telling Steffy the truth. However, it could fail in a big way.
The Bold And The Beautiful Spoilers – Steffy Forrester Finnegan Wakes Up
B&B spoilers reveal that Steffy finally woke up from her coma. It happened on the episode that aired on Wednesday, April 13. Ridge Forrester (Thorsten Kaye) alerted the nurse, who got Bridget Forrester (Ashley Jones). Soon, Ridge and Bridget were joined by Taylor, Thomas Forrester (Matthew Atkinson), and Sheila Carter (Kimberlin Brown).
Right away, Steffy addressed her parents and brother. Then, Steffy started panicking when she saw Sheila. Even though it appears that Steffy has her memory, there are signs that it is only partially true.
B&B Spoilers – Taylor Hayes' Warning
It is hinted that Steffy can't remember the past few years, which means she doesn't remember John "Finn" Finnegan (Tanner Novlan) or Hayes Forrester Finnegan (Piper Harriot). In fact, Steffy might think she is still married to Liam.
It is confirmed that Hope and Brooke Logan Forrester (Katherine Kelly Lang) will argue with Taylor and Ridge. It has to do with Taylor's treatment plan for Steffy. If Steffy thinks she is still married to Liam, Taylor might think it's best to tread carefully.
Taylor will be concerned that telling Steffy that she's married to Finn, who died in a shooting might be too much. Then, for Steffy to be told she has a son that she doesn't even remember could be traumatizing. Taylor might be worried that it will cause Steffy more harm than good.
B&B Spoilers – Hope Logan Spencer's Truth Bomb
The Bold and the Beautiful spoilers reveal that Taylor might even encourage Liam to play the part of a devoted husband until Steffy remembers everything. Of course, Brooke and Hope will not like this idea at all. Despite Taylor's warning, Hope could take matters into her own hands.
Hope could go into Steffy's hospital room and inform her that she's no longer married to Liam. In fact, Hope could add that Steffy was married to Finn and has a son named Hayes. Steffy might be totally confused, especially when she can't meet this Finn person because he's conveniently dead. Steffy will think that Hope is just trying to use the situation so she can get her hands on Liam. Remember, the love triangle goes back for years.
The Bold And The Beautiful Spoilers – Liam Spencer Gives In
It is teased that Liam will eventually give into Taylor's request and be there for Steffy. However, what if Steffy never remembers? Taylor can't expect Liam to live with Steffy and pretend to be her husband forever. At some point, Steffy will want to get intimate with Liam and will be confused why he resists.
Plus, what happens to Hayes? How does Taylor plan to explain Steffy has a son she can't remember?
Be sure to catch up on everything happening with B&B right now. Come back often for The Bold and the Beautiful spoilers, news, and updates.