B&B Spoilers: Steffy Forrester Gets Closure – Moving On From Finn Death?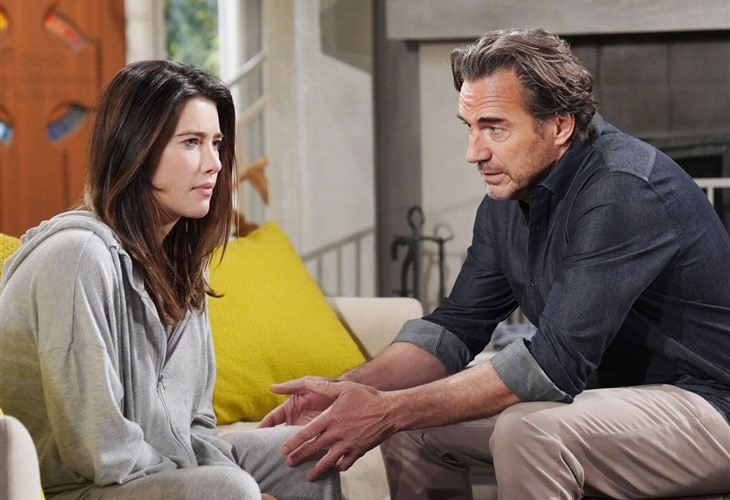 The Bold and the Beautiful spoilers document that Steffy Forrester Finnegan (Jacqueline MacInnes Wood) began decompressing at the cliff house. That now fabled setting served as the full reveal location where Sheila Carter (Kimberlin Brown) made her last stand or what turned into her potential greatest fall.
Knowing who killed her husband provides Steffy with some relief. But Sheila destroyed her family because she appears incapable of reform. Nevertheless, Steffy told her arrested mother-in-law that she will move on.
Meanwhile, Ridge Forrester (Thorsten Kaye) is no closer to deciding who he wants to spend the rest of his life with. Sheila's tell about the label switch may increase Brooke Logan Forrester's (Katherine Kelly Lang) stock. But Taylor Hayes (Krista Allen) retains part of Ridge's heart.
The Bold And The Beautiful Spoilers – Was Sheila Carter Partially Right?
Sheila has been repeating a message in recent months. All she wanted was a chance to redeem herself. She felt that Finn represented her best chance to be changed by the power of family love.
However, Taylor's incredible compassion was abused the instant Sheila decided to pull a gun on Steffy in the alley behind Il Giardino. She intended to shoot Wood's character, with Finn not intended to be part of that tragic scene.
So, Sheila is verbally confronted by Steffy about Brooke, and in response she wants to kill. What compassion was Sheila showing to Steffy or respect for Taylor's daughter? None.
B&B Spoilers – Steffy Forrester Finnegan Defeated Darkness
Steffy represents the light. Sheila is the darkness.  Steffy saw right through Sheila's lies when she appeared at the wedding reception last year, attempting to make good with the Forrester and Logan families.
The Sheila threat might have been avoided if everyone could have been as adamant as Steffy was. But people were not, and the audience knows what happened.
The Bold And The Beautiful Spoilers – Two Hard Choices With Consequences
Brooke will be devastated if Ridge reunites with Taylor. Taylor will feel the same way if Ridge decides to remain married to Brooke.
The problem with moving back to the Logan mansion does not involve Brooke's alcohol issues. Ridge now knows that Sheila engineered that problem. What he fears is Brooke's lack of judgment regarding Deacon that was demonstrated long before New Year's Eve.
However, if Ridge decides to pursue the nostalgic path he has been walking on with Taylor, another challenge exists. He knows that Brooke, not Taylor, is his deeper soul mate. So, can Ridge honestly recommit to Taylor with that emotional fact existing?
This site is a leading source for everything linked to The Bold and the Beautiful. Check back regularly for B&B spoilers and news!