B&B Spoilers: Sheila Targets Brooke After Deacon Rejection?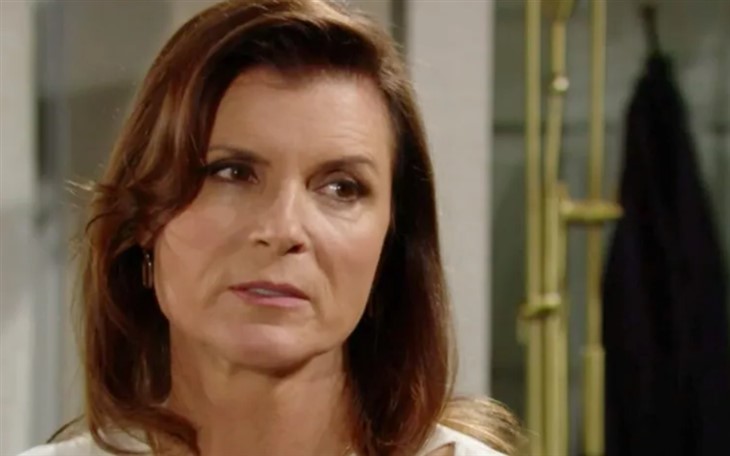 The Bold and the Beautiful spoilers reveal Sheila Carter (Kimberlin Brown) and Deacon Sharpe (Sean Kanan) bicker about Brooke Logan (Katherine Kelly Lang). Deacon doesn't understand what could have gone so wrong that Ridge Forrester (Thorsten Kaye) would leave her. He still deeply cares for Brooke and would love to reconcile with her but I am pretty sure Sheila won't allow that to happen. Sheila gave a warning that Deacon needs to be here with her over comforting Brooke. This could actually be really interesting. Let's talk about it.
The Bold And The Beautiful Spoilers – Sheila Carter Evil Mastermind
I could see Sheila using his weakness for Brooke as a weapon against Deacon. Since he is the only one who knows she's alive he can't tell anyone because he has been harboring her, and even if he did try to tell someone, who would really believe him? We know the Forrester clan has no loyalty to him so they will think he is foolish. He could tell his daughter Hope Logan Spencer (Annika Noelle).
B&B Spoilers – Deacon Sharpe's Secret
B&B spoilers suggest that he might not tell anyone. Deacon doesn't want to let Brooke know he knew the whole time she was alive. Sheila did mention she got some new wigs (please say you also upgraded your prosthetic face), she can easily change up her appearance and fool Deacon.
This could open her up to stalking Brooke and make her think she is going insane. This will put Deacon in a sticky situation, he can't tell Brooke she is right and be found out or he will have to lie and gaslight her into thinking she is just seeing things.
The Bold And The Beautiful Spoilers – Next Move
I know Sheila also mentioned that she hoped Brooke didn't have another relapse and Deacon somberly agreed. Could she try and pull another old switcher-roo and make her relapse? I hope they wouldn't try and do that to her again as she has been through enough already but one more interesting thing that could happen is Sheila ends up kidnapping Brooke. Possibly out of jealous rage since she will never get the kind of love from Deacon that Brooke receives.
B&B Spoilers – Brooke Logan Kidnapped?
The Bold and the Beautiful spoilers reveal that we all know what happens when Sheila doesn't get what she wants and kidnapping Brooke and holding her hostage would be right up her alley. Deacon will know that Sheila did it but how will he convince everyone else while also trying to salvage his reputation? I am sorry to say this but I don't think there is any way Deacon can make himself look like the good guy when everyone finds out he kept Sheila hidden from everyone.
If Sheila were to kidnap Brooke, one way I think Thomas Forrester (Matthew Atkinson) could start his road to redemption is to be the one to figure everything out. He is just as unstable as Sheila is so he may be the only one who gets her thought process better than anyone else.
It will be extremely interesting to see what Sheila is planning, we know that she is tired of hiding and I am sure soon or later she will have another psychotic break and do what she wants. So do you think Sheila will go after Brooke or will her eyes be set on another Forrester woman? I guess time will tell.
Be sure to catch up on everything happening with B&B right now. Come back often for The Bold and the Beautiful spoilers, news, and updates.