B&B Spoilers: Grace Treats Paris And Carter Like Children – Zende Hurt By Reveal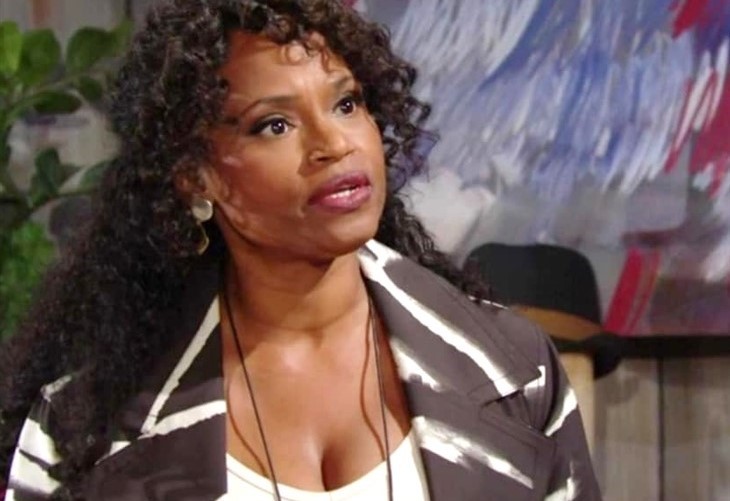 The Bold and the Beautiful (B&B) spoilers document that Grace Buckingham (Cassandra Creech) has her daughter's best interests at heart, or so she thinks. Paris Buckingham (Diamond White) was stunned that her mother arrived at Carter Walton's (Lawrence Saint-Victor) condominium. What followed was shocking.
Carter did not tell Paris that her mother recently threatened him. He was not to see Paris, and if he did Cassandra was going to tell Ridge Forrester (Thorsten Kaye) about it.
The above review comes across an overly protective mother forbidding her high school-age daughter from seeing the captain of the football team. But Paris is in her early twenties, and Carter is in his late thirties.
The Bold And The Beautiful Spoilers – Grace Buckingham Focuses On Reputation
Grace verbally lambasted Carter for his romantic resume. But her assessment of Carter's personal life backstory does not square with the facts.
Carter did not break her older daughter's, Zoe Buckingham (Kiara Barnes), heart. Instead, Barnes' character chased Zende Forrester Dominguez (Delon de Metz) for months, which included a period after she agreed to Carter's marriage proposal.
Grace took whatever Zoe told her or was read between the lines and combined that with the unwise pursuit of Quinn Fuller (Rena Sofer). Creech's character has concluded that Carter is a player, which devoted fans know is not true.
B&B Spoilers – A Couple In Love Can Not Be Broken?
Paris' tell to Carter that she loved him came as a surprise. He and various members of the audience may not have been expecting her to admit that truth or, if so, not at that point in the plot.
Carter responded by telling Paris the same. It was a sweet moment for these single people who have sincerely fallen for each other.
Grace does not realize that her hard push to block this relationship is serving to seal it. But there will be fallout, as the Forrester family learns who Carter has become involved with now.
The Bold And The Beautiful Spoilers – Zende Forrester Dominguez Backed By Family?
Zende will receive support from his family when this news comes out. He has continued to believe that Paris represents his future. So, Ridge and the other members of Zende's family will understand his take. Some may even side with Grace.
But the key figure in the soapy equation seems to be Zende's grandfather, Eric Forrester (John McCook). The Carter-Quinn connection hurt Eric badly, but he forgave his wife and Saint-Victor's character.
Paris is not going to leave Carter and fall in love with Zende because her mother says so. How Grace handles that outcome is soon to be seen on B&B.
This site is a leading source for everything linked to The Bold and the Beautiful. Check back regularly for B&B spoilers and news!