B&B Spoilers: Finn Draws The Line, Steffy Needs To Back Off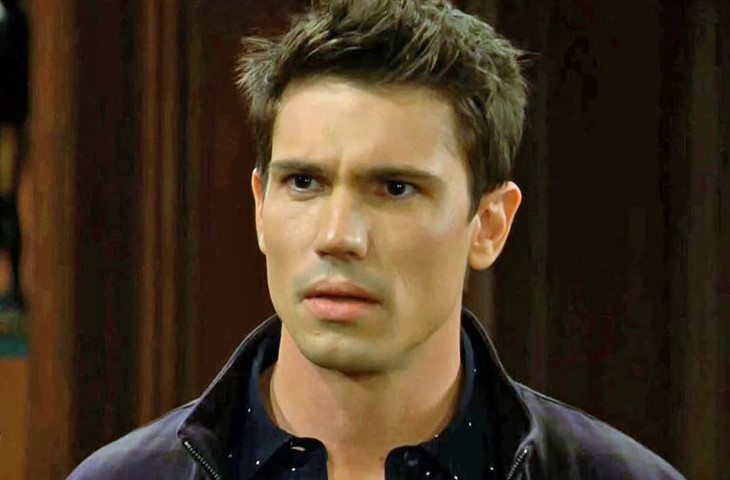 The Bold And The Beautiful spoilers indicate that Steffy Forrester (Jacqueline MacInnes Wood) will warn Li Finnegan (Naomi Matsuda) away from Bill Spencer (Don Diamont). Of course, Bill is Steffy's former lover and former father-in-law. Bill could have been Steffy's baby daddy as well.
The Bold And The Beautiful Spoilers – John Finnegan Objects To Steffy Forrester's Meddling
The Bold and The Beautiful spoilers reveal that John "Finn" Finnegan (Tanner Novlan) will draw the line with Steffy when she tries to steer his mother away from Bill. After all, Bill saved his mother's life when he found her hurt and disoriented. Bill also flew Finn to his family in Monaco as well. Steffy needs to allow his mother some happiness no matter what she thinks about Bill.
Could Steffy's history with Bill be why she objects to Bill and Li's romance? After all, Steffy cheated on Liam Spencer (Scott Clifton) with Bill. Steffy thought that Bill might have been her daughter's father at one point. Of course, Bill is also the one that hit Steffy on her motorcycle and put her in the hospital as well. Of course, Steffy may have another motive to keep Bill from falling for Li also.
B&B Spoilers – Does Steffy Forrester Want Bill Spencer Free?
Steffy may have a completely selfish reason for wanting Bill free. After all, didn't Ridge Forrester (Thorsten Kaye) just find Bill at his house with Brooke Logan (Katherine Kelly Lang)? Perhaps Steffy is planning to use Bill to break up Ridge and Brooke. After all, if Brooke sees Taylor Hayes and Ridge together, she will certainly need someone's shoulder to cry on.
Steffy is up to no good and everyone knows this. Steffy would certainly find a way to make it look as though something is going on with Brooke and Bill to get her parents together. Is Steffy planning on drugging these two to make it look like they were together? Is there anything that Steffy wouldn't do to pull off her new scheme?
The Bold And The Beautiful – Will John Finnegan Put A Stop To This?
Finn may be ready to stand by as Steffy meddles in her parents' love lives. However, Finn believes Bill is a good guy and good for his mother. Finn isn't about to let Steffy mess with Li's happiness. Finn will approve of Bill and Li because his mother is happy. Finn could also see any interference from Steffy as payback for his mother staying quiet.
Is Steffy concerned for Li or does she simply want Bill to be free in case she needs him? Will Finn stop Steffy before she can break his mother's heart? Is Bill the right man for Li? Bill doesn't have a great track record but anyone can change. Will Bill prove that he deserves to be with Li?
Be sure to catch up on everything happening with B&B right now. Come back here often for The Bold And The Beautiful spoilers, news, and updates.