B&B Spoilers: Bill Torn Between Li and Brooke, Will Old Love Or New Win?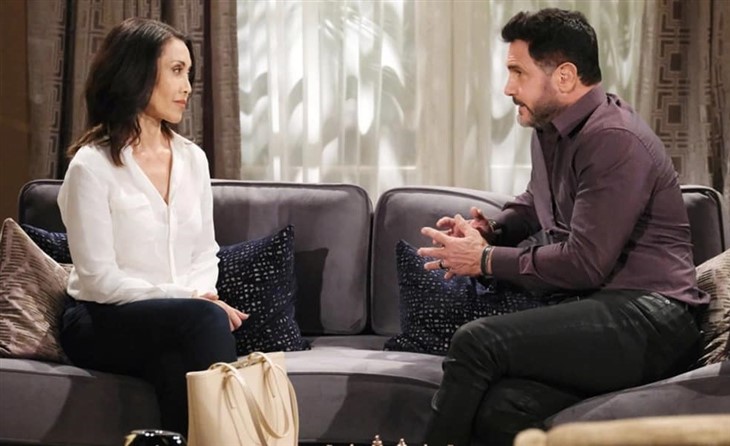 The Bold And The Beautiful spoilers indicate that Bill Spencer (Don Diamont) could soon be torn between Li Finnegan (Naomi Matsuda) and Brooke Logan (Katherine Kelly Lang). Bill has developed a friendship with Li and is very attracted to her. Bill also cares for Brooke who may soon need him to lean on. Who will win Bill's heart?
The Bold And The Beautiful Spoilers – Bill Spencer Likes Li Finnegan
The Bold and The Beautiful spoilers reveal that Bill is very taken with Li. Bill admires her strength and her love for her son. Bill knows that Li has been through a lot but she still managed to get help for her son and save him from Sheila Carter (Kimberlin Brown). The more time Bill spends with Li, the more he likes her. Bill could certainly see himself with Li if she is willing to give him a chance.
Li is done with her husband. Jack Finnegan (Ted King) lied to Li for years. Jack is the reason that Sheila Carter (Kimberlin Brown) came into their lives. Li cannot forgive her husband's cheating and wants nothing more to do with him. Bill has impressed Li with his willingness to help her. Will Bill and Li hit it off as a couple?
B&B Spoilers – Brooke Logan And Bill Spencer Have History
Bill and Brooke have a history together. Bill and Brooke are great friends but they used to be much more. Ridge Forrester (Thorsten Kaye) sees Bill as a threat, he even left her over kissing Bill. Brooke and Bill recently had a heart-to-heart talk about their marriage. If Brooke didn't love Ridge, she and Bill could have had a great marriage.
Bill has been in love with Brooke's sister Katie Logan (Heather Tom) for years. However, Brooke and Bill seem to get along better. Perhaps Brooke and Bill are simply so much alike that they had a unique understanding of each other. Brooke and Bill had fun. Brooke and Bill were compatible. Brooke and Bill were passionate. Bill simply was not Ridge.
The Bold And The Beautiful  Spoilers – Will Li Finnegan Give Romance A Chance?
Li was with Jack for years. However, Li had no idea that Jack had cheated on her or that he was John Finnegan's (Tanner Novlan) real father. Has Jack ruined Li's trust in men after all of his lies? Is Li ready to get out there and try again?
Li trusted Bill when she needed help the most, but can she trust him with her heart? Bill and Li may have a very good relationship if given the chance. Will Li and Bill give romance a try? Will Bill and Brooke rekindle their relationship?
Be sure to catch up on everything happening with B&B right now. Come back here often for The Bold And The Beautiful spoilers, news, and updates.