90 Day Fiance: Evelyn Cormier Admits Marrying David Was A Mistake
90 Day Fiance brought back Evelyn Cormier briefly on the 90 Day Diaries spinoff and she spoke about marrying her husband David Vázquez Zermeño. The singer who also competed on American Idol confessed that she made a big mistake when she married so young. If you don't recall them, the couple appeared in Season 5 of the show and filed for divorce ab0ut five months ago.
90 Day Fiancé

Spoilers – Evelyn Cormier & David Zermeño Divorced

The news that the couple decided to file for a divorce came in November last year. At the time, rumors about a split had already started after fans spotted Evelyn without her wedding band. Actually, fans doubted that they'd make it in the long term as she seemed to have a romantic idea about marriage because her mom and dad married so young. 10 years older than her, TLC fans saw that her friends cautioned her about rushing into marriage. Nevertheless, she accepted his proposal just two weeks after they met in person.

The 18-year-old 90-Day Fiance star had also shocked Katy Perry when she auditioned for American Idol. as she was still a teenager but proudly married. Well, it turned out that the happy smiles belied her real situation. Later, when she first filed for a divorce, it turned out that she wasn't happy right from the beginning of her marriage. So, when fans heard about the divorce last year, they were hardly surprised. Now that they finalized their divorce, will she appear on The Single Life?
90 Day Fiancé

Spoilers – Evelyn Made A Mistake – Takes It Slowly In Future

The news that Evelyn Cormier and Davis finalized their divorce in April, arrived via InTouch Weekly. Apparently, as they live on opposite coasts these days, the case was dealt with remotely. The outlet noted that she certainly doesn't plan on trying for love on The Single Life spinoff. Clearly, she's done with rash decisions about the future. Speaking on Dairies, she said that she "knew immediately" that her decision to marry was a huge "mistake." Still, she got on with life and tried to "live with that."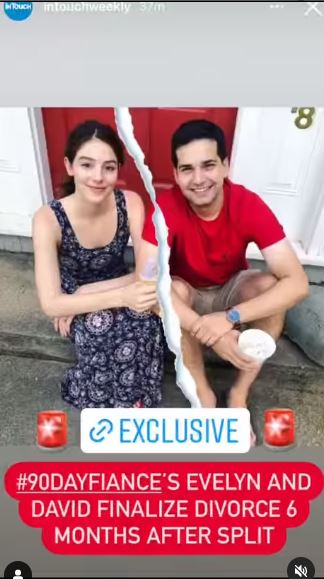 90 Day Fiance fans who saw the news shared by John Yates on Instagram, joked about the split. A lot of chat came about apples. Well, you might recall that she took David to pick some apples and made a big thing about how the Claremont ones are the best in the world. Unimpressed, David didn't agree, which seemed to upset her a lot. In his caption, John said, "Well on a positive note they'll be plenty more of those amazingly delicious New Hampshire apples for Evelin to eat! 🍎."  
90 Day Fiancé

Spoilers – TLC Fans Don't Know The Couple

In the comments, those who didn't joke about apples either said they predicted that she made a mistake, or they didn't know Evelyn and David at all. Well, they never made a big splash after their season on the show. David hated being pushed to discuss intimacy, and he once walked out of his own home to avoid questions.

90 Day Fiance fans lost track of Evelyn Cormier in a big way and she never really made it into the top billing as a singer.

Be sure to catch up on everything happening with the TLC franchise right now. Come back here often for more 90 Day Fiance spoilers, news, and updates.