Y&R Spoilers: Nikki Takes Action, Urges Ashland To Free Victoria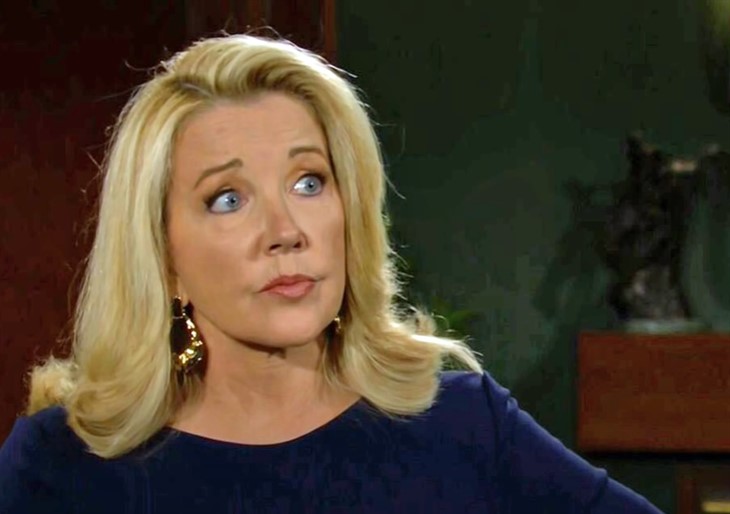 The Young and the Restless (Y&R) spoilers reveal that Victoria Newman (Amelia Heinle) plans on going through with the wedding. Nikki Newman (Melody Thomas Scott) has tried to be supportive. However, that changes when she learns how Ashland Locke (Richard Burgi) came into money. Nikki urges Ashland to love Victoria enough to let her go, but will he listen?
The Young And the Restless Spoilers – Ashland Locke's Criminal Empire
Y&R spoilers reveal that Victoria is learning a lot that she didn't know about Ashland. Each time that Victoria turns around, there is a new bombshell about the man she is about to marry. Victoria is clearly doubting Ashland and questions if she should marry him. However, her loyalty to Newman-Locke has her putting business before her personal life.
Once the couple are in Tuscany, Ashland is pleased that Victoria is still going to marry him. Then, he drops one more bombshell and it will probably be the biggest one yet. Victoria learns that Ashland's entire empire was built on crime.
Y&R Spoilers – Victoria Newman's Decision
Victoria talks to her mother about what she has learned about Ashland. Nikki begs Victoria to cancel the wedding. However, she refuses as Victoria is concerned about what it will mean for Newman-Locke. Nikki is shocked that her daughter is putting her own feelings aside for business. Horrified that Ashland was going to marry Victoria without her knowing the truth, Nikki decides to take action.
The Young And the Restless Spoilers – Nikki Newman Takes Action
The Young and the Restless spoilers reveal that Nikki decides to take matters into her own hands. If Victoria won't listen to her, then she will go straight to Ashland. Scott told Soap Opera Digest that Nikki tries to encourage Ashland to call off the wedding. However, does Ashland love Victoria enough to let her go… does he even love her at all?
Scott added that Nikki plans on speaking with Victor Newman (Eric Braeden) about Ashland. While Nikki wants to protect Victoria, Victor has actually encouraged his daughter to go ahead with the wedding.
"Nikki will not be happy with Victor if she finds out that he's in support of Victoria marrying Ashland in order to protect the merger."
Y&R Spoilers – Wedding Fiasco
It is teased that there is a twist to this wedding story, though. Scott teased to the magazine that there will be plenty of drama on Victoria and Ashland's wedding day.
"… the truth about Ashland's past will fall into the wrong hands and present a real threat to this wedding happening. It wouldn't be a Newman wedding without lots of drama and Victoria's no exception."
It is confirmed that shocking information falls into Billy Abbott's (Jason Thompson) lap. What does he plan to do and how will the Newman family respond?
Be sure to catch up on everything happening with Y&R right now. Come back often for The Young and the Restless spoilers, news and updates.