Y&R Spoilers: Mariah In Labor, Will She Be Found Before Baby's Born?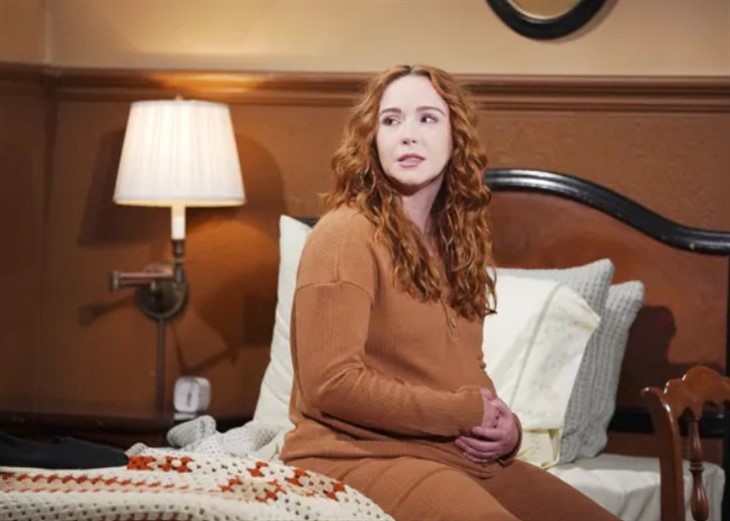 The Young and the Restless (Y&R) spoilers reveal that Mariah Copeland's (Camryn Grimes) worst fear comes true. It is confirmed that Mariah goes into labor while being held hostage. As she struggles to deliver the baby safely, the search is on to find the missing surrogate. Can Mariah and the baby be saved before it's too late?
The Young And The Restless Spoilers – Mariah Copeland's Worst Fear
Y&R spoilers reveal that last week, Grimes told Soap Opera Digest that Mariah has a new fear. Mariah fears that the kidnapping isn't about her, but about the unborn baby. The hostage also worries about going into labor while in captivity. During the interview, Grimes teased that Mariah would have to be strong enough to deal with this next challenge.
"That [giving birth in captivity] wasn't her initial fear, but as this drags on and she's aware how far along she is, delivering the baby by herself becomes a real concern and fear for her. She can't help but come to that conclusion because of the scenario she's in. Nobody's come to reveal themselves, there is no communication whatsoever, so she's starting to feel desperate, will she be strong enough to deal with the challenges ahead?"
Y&R Spoilers – Labor In Captivity Confirmed
It is confirmed that during the week of August 23, Mariah will go into labor. Unfortunately, nobody has come to rescue her. Mariah is forced to deal with labor while being held hostage. Does the kidnapper finally reveal themselves and will they at least help her deliver the baby safely? That is currently unknown and remains to be seen.
The Young And The Restless Spoilers – Finally Connecting The Dots
The Young and the Restless spoilers reveal that there is progress in locating Mariah. Rey Rosales (Jordi Vilasuso) and Kevin Fisher (Greg Rikaart) start to connect the dots. Someone finally unlocks the location on Mariah's phone. Plus, Devon Hamilton (Bryton James) makes a shocking discovery while Victor Newman (Eric Braeden) uses his resources to track down Mariah. In addition to all of that, Abby Newman-Abbott-Chancellor (Melissa Ordway) takes matters into her own hands while Sharon Rosales (Sharon Case) demands justice.
Y&R Spoilers – Last-Minute Rescue
It is teased that right at the last minute, right before the baby enters the world, Mariah is rescued. However, there won't be enough time to get her to the hospital. Mariah will likely be forced to deliver the baby in that little room with no sterile equipment or pain management. Now the question is who kidnapped Mariah and why? We will have to keep watching the CBS soap to find out what happens next with this storyline.
Be sure to catch up on everything happening with Y&R right now. Come back often for The Young and the Restless spoilers, news and updates.