Y&R Spoilers: Mariah Copeland Terrified – Nick And Victor Team Up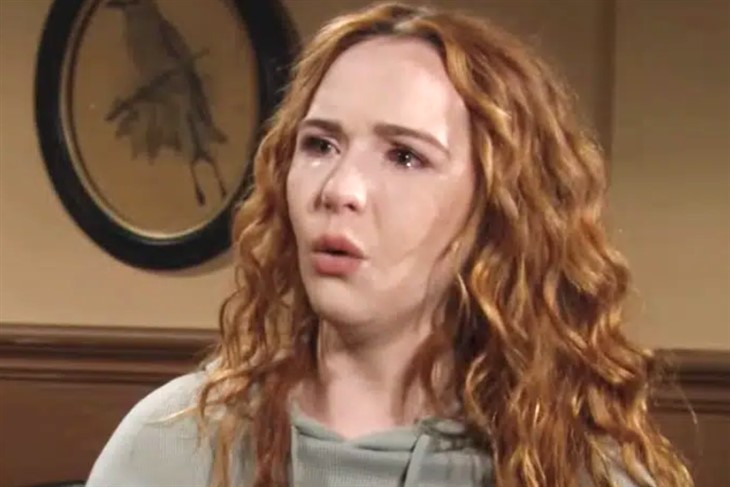 The Young and the Restless (Y&R) spoilers for Monday, September 6, 2021, reveal in Genoa City, Wisconsin Mariah absolutely petrified that she's not out of the woods just yet.
The Young And The Restless Spoilers – Could Mariah Copeland Be Right?
Mariah (Camryn Grimes) might be safe and sound at the hospital, but she doesn't feel that way. She knows Stitch (Sean Carrigan) is still out there and wonders if he might return for her and/or the baby. After all, he kept her locked up for weeks and clearly is not sane at the moment, so one never knows when he might go over the edge again.
Mariah is also having a very hard time letting go of the baby Abby (Melissa Ordway) calls Dominic and who Mariah calls Bowie. When she fed him on Friday, it was clear how much she still needs him in her life. Abby could clearly see she has a problem on her hands when she walked in and she might not realize the extent of it.
Y&R Spoilers – Nick Newman And Victor Newman Team Up For Dirty Work
Despite Nick (Joshua Morrow) getting himself in trouble the last time he went digging for dirt on Ashland Locke (Richard Burgi) at Victor's behest, Victor (Eric Braeden) won't give up. He needs more from Nick. What could he be up to this time and why does he always have to recruit Nick to be the bad guy? Will Nick agree to help his dad with whatever it is he wants? He better. This is The Great Victor Newman we're talking about.
The Young And The Restless Spoilers – Adam Newman And Sally Spectra Come To An Agreement
Victor's other son had some moments he never expected with Sally (Courtney Hope) and she seemed to want to go all in. Adam (Mark Grossman) pushed her away for a variety of reasons and Sally didn't look pleased.
On Monday, this pair agrees to reset their relationship. Will they decide to remain just friends and colleagues or will they want to take things slow (or even fast) and see if things could reach the next level. It's about time they move on from the past and see who else might be out there for them in Genoa City. Stay tuned to the Young and the Restless weekdays to see how these stories play out.