Why Did Everyone Stop Looking For Maxie's Baby On General Hospital?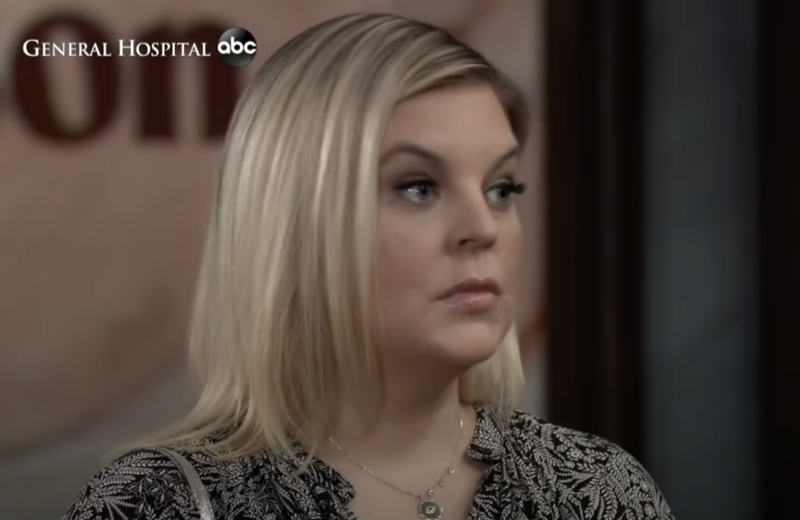 General Hospital spoilers reveal Maxie back on the Port Charles scene this week — after a slight pit stop in Nixon Falls. Does this mean the search for her baby can now resume?
General Hospital Spoilers: Did Everyone Forget About Little Louise?
We know Kirsten Storms needed to take some time off from GH after having emergency brain surgery due to a benign cyst, but one huge part of the character's story could have been told with Maxie off the radar for a bit. She left under the guise that she needed to get away because she missed her kidnapped baby so much.
We all know her baby wasn't kidnapped but instead is Bailey, the baby Brook (Amanda Setton) is passing off as her own. But Anna (Finola Hughes) doesn't know. And Valentin (James Patrick Stuart) doesn't know. And Dante (Dominic Zamprogna) doesn't know. And Sam (Kelly Monaco) doesn't know. And they were all really into finding the baby a few weeks ago, but they gave up. Did they think 'why find Maxie's baby if Maxie doesn't seem so interested?'
Instead, the whole gang who was searching for the baby is now hanging out at the Metro Court pool having a leisurely summer flirting with whoever seems to walk by. What is that? We have a missing baby story with nobody caring that the baby is missing.
Maxie's Baby Mess Now Makes No Sense
First, why doesn't anyone in her orbit notice that Maxie doesn't seem very concerned about her baby at all? She gave up looking for her, took off to Texas, tried to tell other people not to look for her and nobody finds any of this to be odd at all.
Second, the story has been temporarily dropped. How does one do a baby switch story with a twist and then drop the story for weeks on end? This story could have been told with or without Storms on the set. Enough people were concerned about Louise before Maxie left but suddenly stopped caring after she left. Make it make sense, GH.
Apply some consistency to stories even if a performer suddenly can't work for a few weeks. On a related note, why did everyone stop searching for Peter (Wes Ramsey) and/or his body? Does this new pool mean everyone has taken a summer vacation from the mysteries that plague Port Charles? Stay tuned to General Hospital weekdays to see if anyone starts caring about Maxie's missing baby again.