Which 90 Day Fiancé Stars Will Appear On The Single Life Season 2?
Meta-tag: Rumors are doing the IG rounds of various 90 Day Fiancé stars that may appear on season 2 of The Single Life, including Natalie and Varya.
As fans of the 90 Day Fiancé universe know, there was plenty of drama on season 1 of 90 Day: The Single Life. Now, rumors are flying of who could be on the cast of the second season of the dating show. Reportedly, much to fans' dismay, Big Ed Brown has already been confirmed. However, possible additional members of the cast could cause some excitement on the show.
TLC 90 Day Fiancé – Big Ed Brown On 90 Day: The Single Life
Since the abusive phone call between Big Ed Brown and his former girlfriend Liz was leaked, 90 Day Fiancé fans have been calling for the removal of Ed from reality TV with the hashtag, #CancelBigEd. The expletive-laden call was so shocking and abusive, everyone in the 90 Day Fiancé fandom was shocked to the core.
However, it seems the second season of 90 Day: The Single Life has already started filming and regrettably, Ed is in the show. Fans already knew he was involved in the show again after he told followers on social media that he is filming for season 2.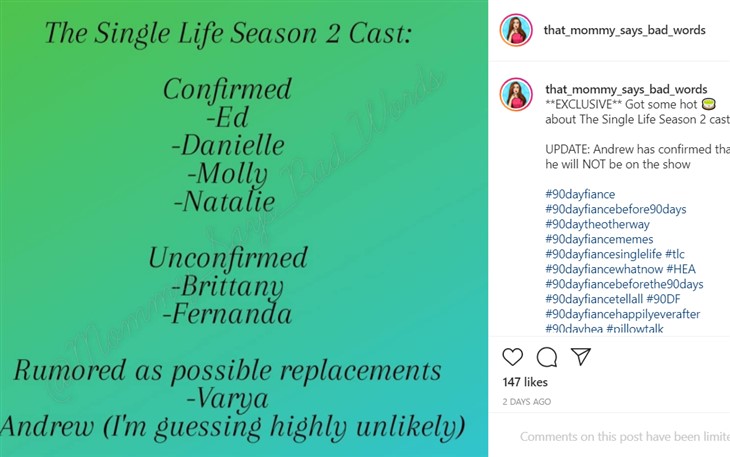 However, besides Brown, fan page @that_mommy_says_bad_words has posted on Instagram to give hints of other cast members. They listed Danielle Jbali, Molly Hopkins, and Natalie Mordovtseva. Natalie is apparently confirmed, as she stated on her Maxim's page that she would appear.
So far it is unconfirmed whether Brittany and Fernanda will appear in the second season, but the interesting rumors for possible replacements were Varya Malina and Andrew Kenton.
Most fans would likely be thrilled to see Varya again, likely without Geoffrey Paschel as she has been seen with another mystery man in Colorado, but Kenton isn't a popular choice. Luckily, after the post was made, it was later edited to say that Andrew will not appear in the show. There are rumors, however, that Natalie's husband, MikeYoungquist might star in season 2. He was reportedly spotted recently with a girl with long blond hair, who wasn't Natalie.
Despite all the rumors and maybes, possibly the worst aspect of season 2 of 90 Day: The Single Life is the thought of once again having to watch Big Ed Brown abuse yet another young woman. It seems the network doesn't care about fan's feelings once the cameras have already started rolling.
Be sure to catch up on everything happening with TLC right now. Come back here often for 90 Day Fiancé spoilers, news, and updates.