The Young And The Restless (Y&R) Spoilers: Victoria And Adam Plot and Plan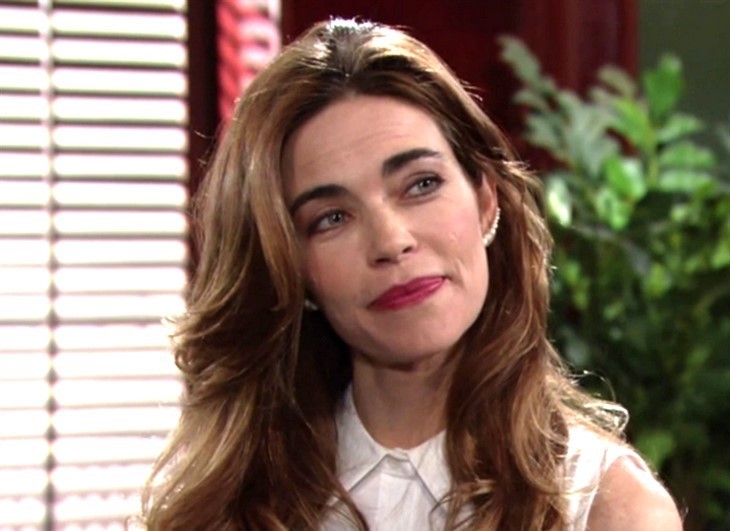 The Young and the Restless (Y&R) spoilers for Monday, July 26, 2021, reveal another heated Adam and Chelsea confrontation,
The Young And The Restless Spoilers – Adam Newman Plays Hardball
Adam Newman (Mark Grossman) has always known that Chelsea (Melissa Claire Egan) was faking her breakdown and really did try to set him up and kill Rey (Jordi Vilasuso), knowing exactly what she was doing. However, he played dumb for her sake because he didn't want to see Connor's (Judah Mackey) mother end up in jail. Now, Chelsea is out of the mental hospital and off to take care of her allegedly sick mother — the one who taught her how to con.
Spoilers say that Adam gives Chelsea an ultimatum on Monday. Does she want to have Connor with her more and does he use the fact that he knows the truth to lord over her head? What does Chelsea have to do for Adam to get what she wants? Perhaps they two are at a stalemate but it doesn't look like they will ever be together again. Maybe he even learned that her mother is not sick at all and threatens to hold Connor visitation over her because he knows more secrets than she could ever imagine.
Y&R Spoilers – Victoria Newman Playa Hardball Like Her Brother
Meanwhile, Victoria Newman (Amelia Heinle) is enjoying her life with Ashland Locke (Richard Burgi) but feels he's about to give up sometimes. He just found out he's dying, his wife cheated on him, and now his son is no longer his son. Whether that's all true or not remains to be seen, but on Monday Victoria issues Ashland a challenge. Is this a business or pleasure challenge?
Perhaps Victoria just wants Ashland to forget about all the negative things for a few days and live life for himself — and with her. Or perhaps she challenges him to land a new business deal. Either way, it looks like Victoria Newman may have finally met her match and it would be a total shame if he died, right? Who thinks Ashland will soon have a miracle cure to work with or that he's just not dying at all? Something just doesn't seem right about how healthy he looks and acts… Stay tuned to The Young and the Restless weekdays to see how these stories play out.