The Bold And The Beautiful (B&B) Spoilers: Quinn And Carter Put To The Test – Paris' New Life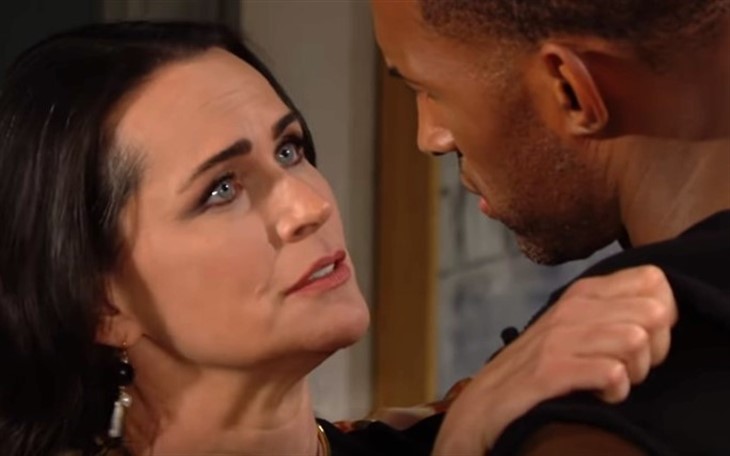 The Bold and the Beautiful spoilers for Wednesday, July 21, 2021, reveal Quinn and Carter exploring their new relationship in a different way.
The Bold And The Beautiful Spoilers – Can This Be More Than Sex?
Although they know that sleeping together can ruin Carter's (Lawrence Saint-Victor) career and hurt Eric (John McCook) further, Quinn (Rena Sofer) and Carter just can't stay away from one another and keep ending up in bed. But does it end there? Is sex all they have? Sure, their relationship started with talking and them each opening up about how lonely and frustrated they were, but they haven't done much talking since and life can't be all lying in bed with one another.
On Wednesday, it looks like they have to come out from under the covers and test the waters when sex and lust are not involved. Are their feelings for one another real or are they both as they said, lonely and frustrated so not thinking about their actions. Eric is about to make things more difficult for them and Carter is going to have a decision to make.
B&B Spoilers – Paris Buckingham May Have A New Life
Meanwhile, Paris (Diamond White) is still trying to find her place with the Forrester clan now that Zoe (Kiara Barnes) decided to take off for…well, the actual place called Paris. She is allegedly dating Zende (Delon De Metz), but we have no idea if that is going anywhere. And now her sister is gone. Is there anything at all to keep her in Los Angeles besides a job she enjoys?
We are about to find out as she receives a very generous offer that could end up taking her life in a brand-new direction. Can a chance visit really change someone's life so much? Well, if you know how to hold and rock a baby while singing a very simple, well-known lullaby, the sky can apparently be your oyster. First, Brooke (Katherine Kelly Lang) is ready for a new career start and it looks like Paris is, as well. What will Steffy (Jacqueline MacInnes Wood) and Finn (Tanner Novlan) have to say to their friend? Stay tuned to The Bold and the Beautiful weekdays to see how these stories play out.