GH Spoilers: Portia And Elizabeth Suspicious Of "Marshall"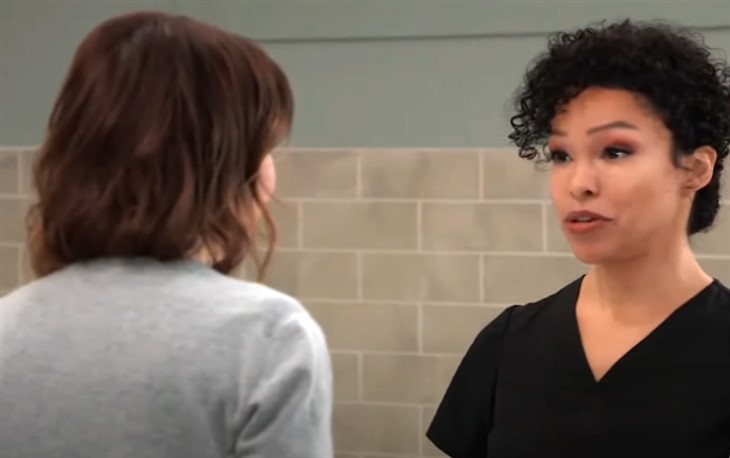 General Hospital spoilers tease that Portia Robinson (Brook Kerr) will talk to Elizabeth Webber Baldwin (Rebecca Herbst) about Marshall, (Robert Gossett) the suspected stalker in an upcoming episode of General Hospital!
General Hospital Spoilers – Portia Robinson Doesn't Know What This Mystery Man Wants
General Hospital viewers will recall that Portia has encountered Marshall and realized he was the mystery patient who left the care of TJ Ashford (Tajh Bellow) at General Hospital. Trina Robinson (Sydney Mikayla) was approached by an unexpected visitor as well, and now there is another Ashford family close friend that the mysterious Mr. Marshall seems to have an interest in!
However, Portia knows from talking to TJ that he seemed to have much more of an interest in him and Curtis Ashford (Donnell Turner) than he seemed to have in her or Trina, after talking to her. He seemed to have more interest in the Ashfords than anything else. Portia isn't sure exactly who this man is or why he's in Port Charles, but since he spent a fair amount of time with TJ with a perceived illness than left, she thinks that General Hospital staff need to keep an eye out, and she starts with Elizabeth.
GH Spoilers – Portia Robinson Worries The Mystery Man Could Be Working For Cyrus Renault
General Hospital spoilers tease that even though Portia is probably right on target with Marshall's main interest being in the immediate Ashford family, she is worried that possibly he could be working for Cyrus Renault (Jeff Kober)! After all, she and Curtis were instrumental in Cyrus' takedown when he broke into her house after being shot, forcing her to treat him. Cyrus had also had TJ kidnapped and mistreated early on, when he was forcing Port Charles Police Commissioner Jordan Ashford (Briana Nicole Henry) to do his bidding!
Cyrus also threatened Trina while he had her and Portia hostage, until Mayor Laura Collins (Genie Francis) had convinced him to trade her for Trina, and Curtis came through the house from another way and got behind him with a gun! Cyrus also had been working with Peter August (Wes Ramsey) at one point, helping frame Jason Morgan (Steve Burton) for Franco Baldwin's (Roger Howarth) murder, paying Gladys Corbin (Bonnie Burroughs) handsomely for her false testimony. Portia has good reason to suspect Marshall may be working for Cyrus, and many working at GH could be targets!
General Hospital Spoilers – Portia Robinson Shares All These Concerns With Elizabeth Baldwin
General Hospital spoilers tease Portia sharing all these concerns with Elizabeth, and Elizabeth in turn will notify others. Monica Quartermaine (Leslie Charleson) will be informed along with all the doctors, other nurses, and any other General Hospital personnel who could be in danger from the mystery man.
So far, Marshall hasn't acted like he was out for anything except information, but Portia knows that could change all too quickly if he indeed is working for Cyrus or anyone else in the mob, for that matter. Cyrus, however, still seems to be the most likely candidate for Marshall to be working for, if indeed he is hanging around Port Charles and General Hospital for nefarious reasons!
Stay tuned to General Hospital, and keep checking General Hospital spoilers frequently for all the latest news, updates and developments!