GH Spoilers and Rumors: Willow Is Pregnant, Michael A Daddy Again?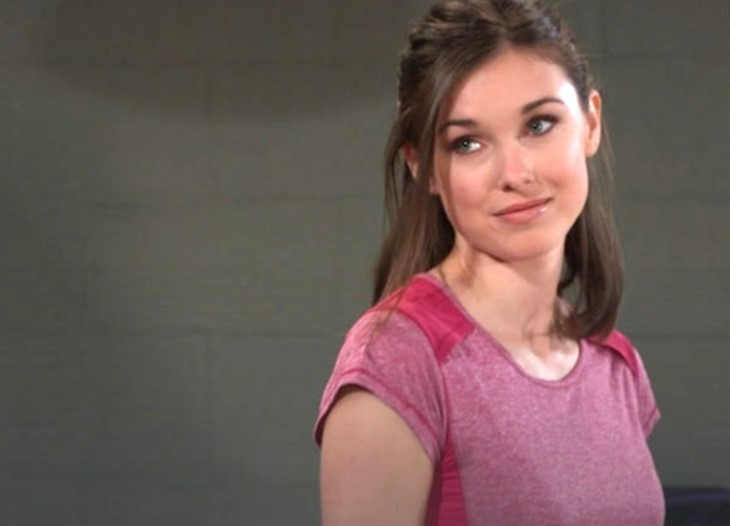 General Hospital (GH) spoilers tease that recent months have been difficult in Port Charles, NY for Willow Tait (Katelyn MacMullen). Just as soon as she and Michael Corinthos (Chad Duell) declared their love for one another, Willow's ex Harrison Chase (Josh Swickard) was poisoned. Thinking Chase wasn't going to make it, Willow agreed to marry him. Chase survived, but was paralyzed. There never seemed to be a good time to break the news to Chase. But everything eventually worked out, and Michael and Willow are free to be together. So what's next for this couple?
General Hospital Spoilers – Is Willow Tait Ready To Have Another baby?
Willow has had a difficult past in regards to a child of her own. While still a member of the Dawn of Day cult, Willow discovered she was pregnant by it's leader Shiloh (Coby Ryan McLaughlin). Willow left the Cult, which her mother Harmony (Inga Cadranel) was also part of, Willow changed her name and planned to give her baby up for adoption. Willow gave her baby up, but unbeknownst to her, the baby died and was switched with Wiley Corinthos (Erik and Theo Olsen). Willow believed for over a year that her baby was Wiley and was devastated when she eventually found out her son had died.
GH Spoilers – Falling In Love With Michael Corinthos!
But Willow also loved Wiley, and wanted to make sure his birth mother, Nelle Benson (Chloe Lanier) couldn't take Wiley away from his father, Michael. To that end, Michael and Willow married and were given custody of Wiley. Willow loves Wiley as her own, but still grieves for the son she lost. A pregnancy now would probably thrill Willow and Michael both, who would love for them to have another child. Could this be the right time for them to have a baby?
General Hospital Spoilers – Everything Points In The Direction Of Another Child For Michael Corinthos And Willow Tait!
For the first time ever, there doesn't seem to be anything coming between Michael and Willow. Wiley is growing up quickly, so now seems to be the perfect time. Michael is happy working as CEO of Aurora Media, at least until Drew Cain (Cameron Matheson) returns. And Willow is taking classes in preparation of her new career as a nurse. Everything seems to point in the direction of another baby for this beleaguered couple!
GH Spoilers – What Do You Think?
Now that Michael and Willow are happy, is it time to start thinking about another baby? Or should they wait? How will Wiley react to having a new brother or sister? Only time will tell, so stay tuned to General Hospital airing weekdays on ABC. And don't forget to check back right here regularly for all your General Hospital news, information and spoilers!