General Hospital Rumors: Willow Tait And Harmony Reconcile?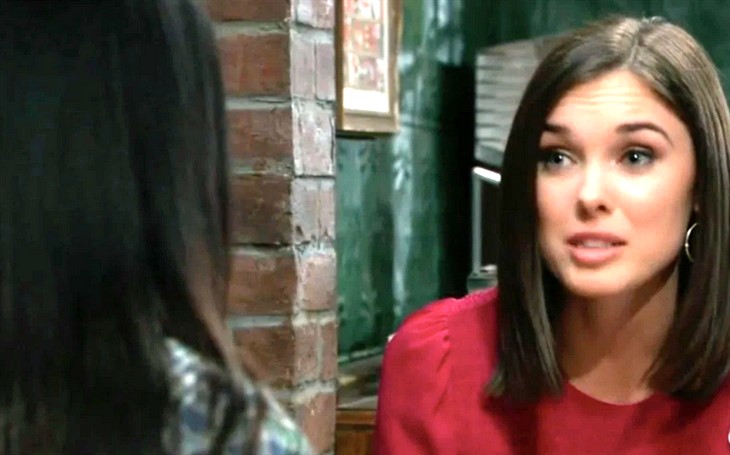 General Hospital rumors and spoilers tease that Willow Tait (Katelyn MacMullen) can finally publicly be open about the man she truly loves, Michael Corinthos (Chad Duell). Michael and Willow first got married in order to make sure they had the best legal case to get full custody of Wiley Corinthos (Erik and Theo Olsen), although at the time both of them were in love with other people.
General Hospital Spoilers – Michael Corinthos And Willow Tait Enjoyed Being Married To One Another!
But the more time they spent together as a married couple, the more they realized they had fallen in love for real. Eventually the couple made love, but both of them were unsure if they still had feelings for their exes.
Once the threat to Wiley was gone, the couple annulled their marriage in order to explore their feelings for their former loves. But Willow and Michael were drawn back to each other over and over again. So they realizes that they had to make a clean break with their exes so they could be together for real.
GH Spoilers – Michael Corinthos And Sasha Gilmore Fell Out Of Love!
Although Michael said he wanted to reconnect with Sasha Gilmore (Sofia Mattsson) on General Hospital, neither one of them seemed to feel the same about each other as they had previously. Michael was once again free to be with Willow after he and Sasha broke up amicably. Willow had to find a way to tell her former lover, Harrison Chase (Josh Swickard) that she no longer felt the same way about him, even though she knew he was still madly in love with her.
But the night that Willow was going to tell Chase, he collapsed and had to be taken to General Hospital, where it was discovered that he had been poisoned. For awhile, it didn't seem as though Chase was going to survive, so Willow agreed to marry him. GH spoilers and recaps reveal Chase finally recovered, and after several weeks, Chase realizes that Willow didn't feel the same way and the two of them are no longer a couple.
General Hospital Spoilers – What's In Store For Willow Tait?
Willow has been training to become a nurse, so much of her time will be spent pursuing her new career. Willow will have a lot to learn, but she should excel as a caregiver. But it will be a completely different world that teaching elementary school. Willow has used her busy schedule to avoid dealing with her feelings about her mother, Harmony (Inga Cadranel) Harmony (Inga Cadranel) is determined to have a relationship with Willow and Wiley. Harmony and Willow have a difficult past to say the least, and it was actually Harmony who made sure Willow slept with cult leader Shiloh (Coby Ryan McLaughlin). But once Willow realizes she was pregnant she left the cult.
While Harmony remained with Dawn of Day for several years after Willow left, she eventually realized the harm she had done, not only to Willow but all the other young women she had groomed. She testified against Shiloh in order to receive a lesser sentence and has tried to remain on the straight and narrow. But for awhile, Cyrus Renault (Jeff Kober) threatened to kill Willow if Harmony didn't commit criminal acts on Cyrus' behalf. But Cyrus is in prison now, and the threat to Willow is gone on General Hospital.
GH Spoilers – Willow Tait May Not Have Much Time Left With Harmony Miller
Harmony is currently working at the prison where Ryan Chamberlain (Jon Lindstrom) is being held. Ryan is completely paralyzed except he can blink. Harmony has taken a job as Ryan's personal assistant. She has helped him write letters and communicate with others even with his limited capacity. But she is worried because she gave Nikolas Cassadine (Marcus Coloma) access to Ryan's mail.
According to General Hospital spoilers, Harmony is worried what will happen if Ryan realizes that the letter is missing. As long as Ryan can't move, Harmony should be fine, But if Ryan is ever regains his mobility, Harmony might very well become Ryan's next victim.
General Hospital Spoilers – What do you think?
Should Willow make peace with Harmony? Or will Willow not be able to forgive her mother? Will Harmony end up dead before Willow is ready to make peace? Only time will tell, so stay tuned to General Hospital airing weekdays on ABC. And don't forget to check back right here regularly for all your General Hospital news, information and spoilers!